You better be paying attention to the latest smart home trends, because before you know it, the Internet of Things will be crawling with you into bed. Take for example Luna, touted to be the world's first smart mattress cover. It can learn from your habits, preferences and even your very sleep patterns in order to set the perfect temperature for your bed. What's more, Luna can even talk with your other smart home appliances to orchestrate the perfect morning wake up routine.
A lot of people nowadays sleep with their smartphones, so it might not be too much of a stretch to imagine sleeping on something smart as well. Unlike a full-blown smart mattress, however, Luna is an exponentially more affordable cover that can be made to fit your foam of choice. Once set up, you can expect Luna to warm up or cool down your bed just in time for sleep and according to your own preferences. Beyond that basic but already smart functionality, Luna also has a few interesting perks.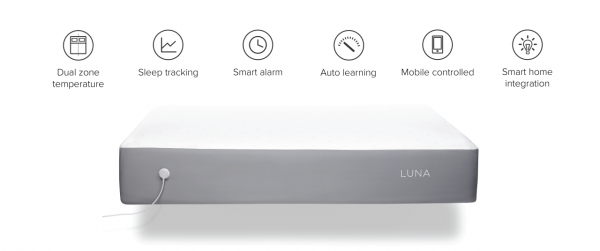 For one, it can set the temperature for both halves of the bed separately, which is perfect when you're sharing the bed with someone. It also has a built-in smart alarm that will try to wake you up at the right moment, usually during a light sleep phase, so that you wake up feeling refreshed instead of feeling stressed.
But perhaps the most interesting feature for smart home owners is the fact that Luna integrates with other smart appliances like thermostats, door locks, bulbs, and more. While it directly works with Nest, Emberlight, Lockitron, and Bleep, its integration with IFTTT means that you can practically connect anything and everything to Luna.
For now, Luna can only be pre-ordered, at $199 for one Queen-sized cover and $219 for a King. It, however, is still in a crowdfunding stage which will determine how many such covers will be made. If all goes well, production will start June this year with shipping scheduled to start around August.