Lumos bike helmet has stoplights and turn signals built-in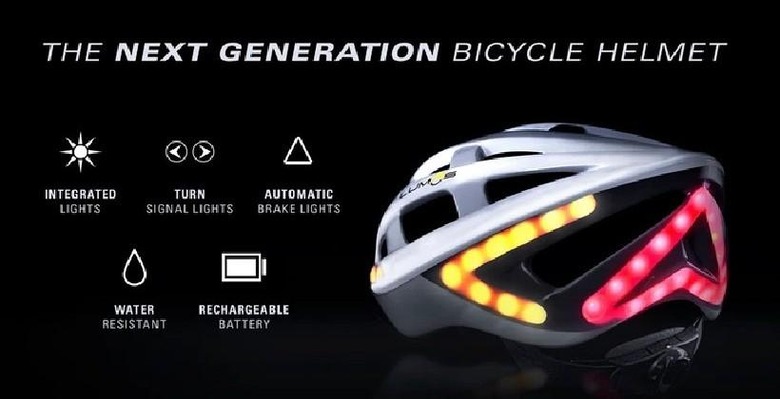 The biggest safety challenge for bicyclists is to be seen on the road so people in cars don't hit them while they ride. Most bikes have reflectors and riders can put flashing lights on their bikes to help them be more visible. A new bike helmet called the Lumos has built in lighting to improve rider visibility and it has turn signals and stoplights built-in to help the rider signal intentions while on the road.
The helmet is called the Lumos and it's on Kickstarter right now seeking funding. On the front of the helmet are white LEDs that flash and glow making the rider more visible from the front, particularly in dark environments. On the backside of the helmet is an integrated brake light and turn signals.
The brake light is arranged in a triangle and is red in color. The turn signals are yellow and flash in a triangle on each side of the brake lights when activated. Riders activate the turn signals with a thumb using an included wireless remote control. Turn signals are turned on and off with a press of the same button.
Lumos automatically pairs with the wireless remote each time it is in range. The remote is water resistant and gets power from a coin cell battery good for six months of use. The helmet has an internal rechargeable battery that is recharged via a USB cable. The battery will last for about 30 minutes of use each day for a week on a charge. Lumos is seeking $125,000 and has raised $147,996 as of writing with 29 days to go. A pledge of $99 or more will get you a Lumos with shipping estimated for May 2016.
SOURCE: Kickstarter