Lucid Hydra 200 powers MSI Big Bang mainboard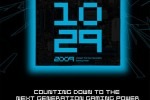 One of the things that always bothered me about gaming mainboards was that most of them could only support multiple video cards from one brand, and all boards require the same type of card. That means that if you had a NVIDIA 9800 GTX sitting around when you got your new GTX 280 that 9800 GTX was no good to you.
MSI and Lucid have announced a new mainboard called the MSI Big Bang that uses the Lucid Hydra 200 SoC. The Hydra 200 is a real-time distributed processing engine that acts as an intelligent graphic load balancer.
What that means is that the Big Bang board is capable of allowing the user to mix and match multiple video cards of any model and any make. Not only can gamers use their 9800 GTX and GTX 280 in the same computer, they can use an ATI video card and a NVIDIA card at the same time. MSI expects the mainboard to be on the market in time for the holiday shopping season at undisclosed pricing.