Loreo 3D Lens in a Cap allows you to take 3D pictures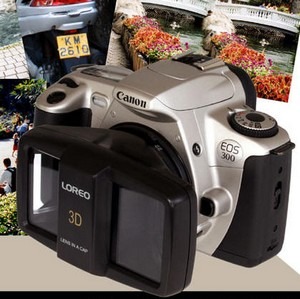 Check out this nifty little attachment from Loreo, you can get it for your Canon EOS and FD models, Nikon, Olympus, Pentax K mount, and Minolta MD and AF models and it allows you to take 3D photos. Basically it splits the image from each side and allows the camera to capture both, the only downside is, it slows the f-stop rating down to 11.
But, what do you expect for something that has to capture twice the image? Both lenses are adjusted automatically to capture the 3D effect of the image, which, once captured, can be viewed on a 3D image viewer or on a PC with the included software from Loreo, you can also make prints.
Inside, there are two lenses with the focal length of 38mm. Those two lenses can focus from 1 meter to infinity. In case you are familiar with 3D picture taking technology, this is the same stuff that was used in the 60's by sci-fi drive-in cameramen.
Lens Accessory makes taking 3D pictures a snap [via coolest-gadgets]