Logitech offers new Notebook Kit MK605 just in time for Windows 7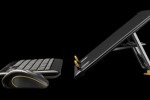 Logitech has announced a new notebook kit called the MK605 that bundles three things that most notebook users will want into one kit. The kit is timed well too since there are probably many notebook users out there with their eyes on October 22 ready to run out and buy a new notebook computer.
The Logitech MK605 kit includes a notebook stand, a wireless mouse, and a wireless keyboard. The mouse and keyboard both use a single, small Logitech unifying receiver. The mouse in the kit is the Logitech M505 wireless mouse promising 15-month battery life.
The keyboard is the Logitech Wireless Keyboard K340 good for three years on one set of batteries according to Logitech. The keyboard is a space saver design for cramped desks. The final piece of the kit is the Logitech Notebook Riser N110 that holds the screen of the notebook at one of three levels and helps with cooling. All of the gear in the kit has a black finish with yellow trim. The kit is available now for $99.99.