Logitech MX Sound are Bluetooth speakers for your desktop PC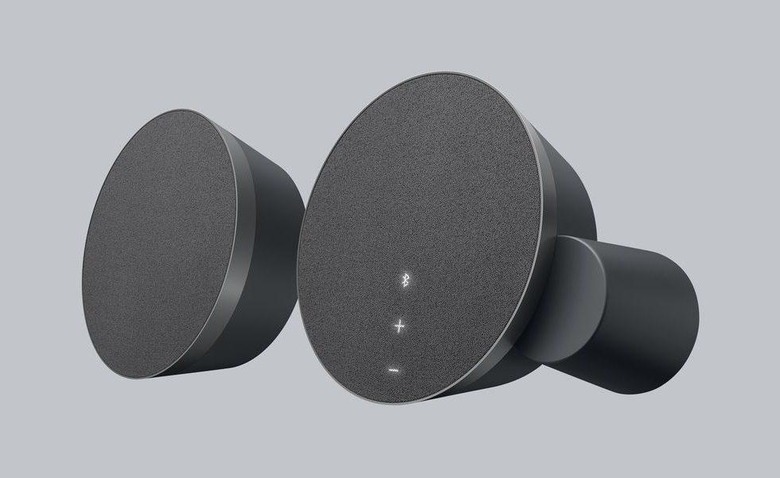 As time goes on, more and more desktop PCs are coming with Bluetooth installed out of the box. This makes picking speakers for your computer equal parts easier and more frustrating. After all, Bluetooth functionality greatly expands the number of compatible speakers, but there aren't many Bluetooth speakers that are meant to be used on a desk alongside a PC. Say hello to Logitech's new MX Sound speakers, designed specifically to be used on your desk.
That much should be apparent in the design of these speakers. A far cry from the pill speakers that seem to be so common these days, Logitech's MX sound speakers seem to be trying to emulate the look of dual speakers that plug into the back of your desktop PC. As such, they have a relatively low profile that won't get in the way of your monitors or your PC accessories.
Other than their unique design, these seem to be relatively standard Bluetooth speakers with a few extra Logitech touches. The company says these speakers offer big sound for their size, thanks to MX Sound's "24 Watt Peak power, superior drivers, and rear-facing port tubes." You can connect up to two different devices through Bluetooth, though you can use a 3.5mm wired connection as well.
The touch controls on the right speaker are backlit, making them easier to navigate, and MX Sound also features a standby mode that kicks in after of 20 minutes of inactivity to help save on power. It's unclear if these are powered speakers or if they run on a battery, but given the fact that Logitech makes no mention of battery life in its announcement, it's likely that these are powered speakers.
Logitech says that these MX Sound speakers will be out by the end of September. They'll have a suggested retail price of $99.99, which is fairly affordable considering the circumstances. We'll see just how well they perform at that price range soon enough, but for now, be sure to check out all of our coverage from IFA 2017!