Logitech Harmony 700 universal remote debuts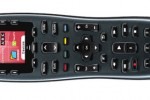 I have been using and reviewing Logitech Harmony remotes for years and so far, I have found them to be some of the best universal remotes on the market. The only real downside to most of the Harmony remotes is that they are expensive devices.
Logitech has unveiled a new Harmony universal remote that is called the Harmony 700. The 700 is one of the lower price remotes in the line up at $149.99. Features of the remote include a color LCD screen, rechargeable AA batteries, and programmable activities.
The activities are the great part about Harmony remotes allowing the user to program one button to change all the inputs needed for tasks like watching movies and playing games. The Harmony 700 can replace up to six remotes and programs with the same Harmony software the more expensive remotes use. Logitech is set to ship the 700 this month.