Logitech G9 Mouse gets customizable ID Grip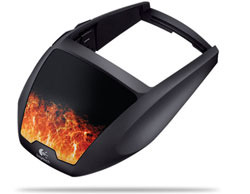 Logitech is known for their many computer mouses and gaming peripherals, but now they're offering up something additional for their G9 Laser Mouse that's sure to make more than a few heads turn. It's called the ID Grip, and this item can be customized to fit your individual gamer personality.
The ID Grip, located on the palm area of the mouse, can be adorned with artwork from a specific game or from other images Logitech created. You can even jazz it up with an image you send in for use.
Logitech says the introduction of this customization option is a logical move for a product intended for gamers who, more often than not, like to mod their hardware. Any image you select is custom printed on the grip for you and it won't fade or rub away with time. You can get the Logitech G9 Laser Mouse ID Grip now for $19.99.