Logitech Ergo K860 keyboard is the perfect MX Vertical companion
Over the past couple of years, we've seen Logitech attempt to build out its range of ergonomic PC accessories, most notably with the MX Vertical mouse. The MX Vertical has a design that definitely takes some getting used to, but today we're seeing the company launch something a little more familiar: an ergonomic keyboard. Officially dubbed the Ergo K860, this keyboard looks similar to many of the other ergonomic keyboards out there, but it has some features that may help stand out in a sea of competitors.
The keyboard, as you'd expect, is split down the middle and curved to make it so your wrists don't have to bend as much as you type. This, in turn, reduces strain on your arms and shoulders, potentially making sitting at a keyboard much more comfortable. Having a split, curved keyframe is more or less par for the course when it comes to ergonomic keyboards, but where the Ergo K860 may differentiate itself is in the wrist support.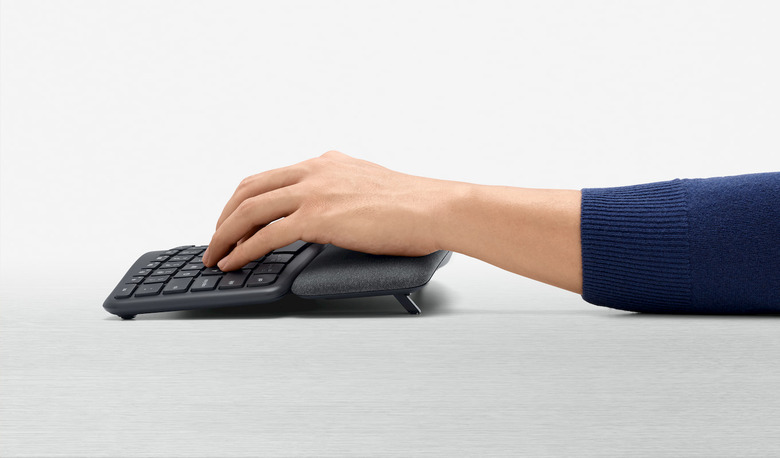 The wrist support on the K860 curves right along with the keyboard it's attached to and puts your wrists slightly above the keyboard. This, as Logitech explains it, allows for "54% more wrist support than a traditional keyboard." The support itself is made up of memory foam layered on top of high-density foam which has then been covered in fabric.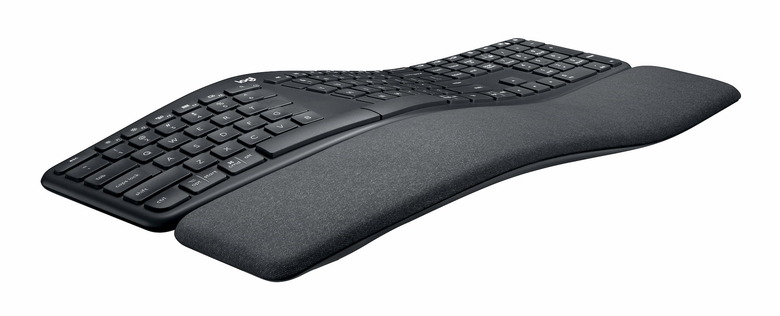 One interesting thing to note is that the wrist support actually has lifts built into the bottom, so if you use a standing desk, you can flip those out to make the angle that your wrists have to bend to type less severe. The keyboard connects wirelessly either through a USB dongle or through low-energy Bluetooth, and with no USB port in sight, there's no option to give it a wired connection to you PC. It's powered by two AAA batteries, which Logitech says will last for up to two years.
I've been using the Ergo K860 for a little while now, and while ergonomic keyboards have never really been a consideration for me, I do have to say that it feels comfortable to type on. Anytime you jump from a traditional keyboard to an ergonomic one, there's going to be an adjustment period, and while I don't think that I'm quite finished adjusting yet, it is going faster than I anticipated. That said, adjusting while gaming has proven to be difficult and, at times, frustrating, so this is definitely a keyboard better suited for the office instead of home.
In any case, the Ergo K860 will launch this month on Logitech's website and Amazon for $129.99; we'll see it spread to "select retail stores" at some point in February. Look for my review of the K860 soon.