Logitech Announces The Speed Force Wireless Racing Wheel For Wii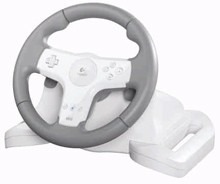 Logitech has announced the new Logitech Speed Force Wireless racing wheel for the Wii. The wheel will be the first force feedback wheel for the Wii and is designed to work with EA Games Need for Speed Undercover.
The Speed Force Wireless racing wheel has a once-piece design with built-in gas and brake controls located on the wheel itself. The wheel has an expandable lap rest so you can adjust the wheel for how you like to play your games. The wheel uses 2.4 GHz wireless technology to allow to gaming up to 30 feet away from the actual Wii console.
Ruben Mookerjee, the director of product marketing for gaming at Logitech said in a press release "Logitech has been at the forefront of force feedback technology for more than a decade, and we're confident that our driving platform will be an indispensable part of the racing experience on Wii as more titles that support it become available."
Look for the wheel to become available in the US and Europe in November for an MSRP of $99.99.