Living with Google Home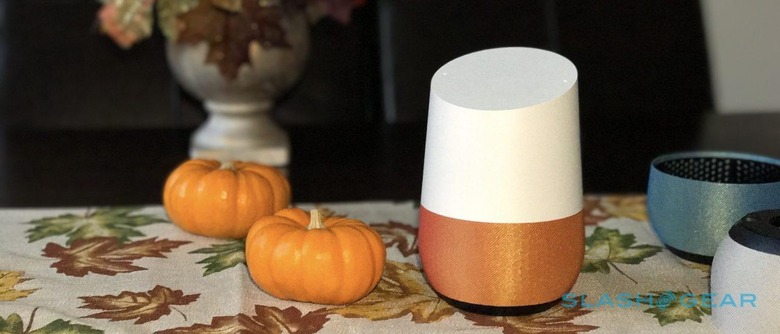 The Google Assistant has been bundled into the browser, added into Android, and squeezed into Android Wear: now, it's getting a sleek object d'art for the smart home. Google Home is the search giant's take on the smart speaker space, a direct challenge to everyone's current favorite virtual PA, Amazon's Alexa. At $129, Google Home undercuts Echo (though not Echo Dot) and, if your digital life is already in Google's cloud, it promises a more streamlined way to consume that data around the home.
If Amazon's Echo is a vaguely ominous totem, Google Home opts for a more curvaceous, less threatening design. It's a little like an essential oil defuser, only one with interchangeable base sections. Screw apart the two halves – they cling together magnetically – and you can switch out the lower grille for different colors like the pumpkin-orange shown here, or various metal and fabric finishes.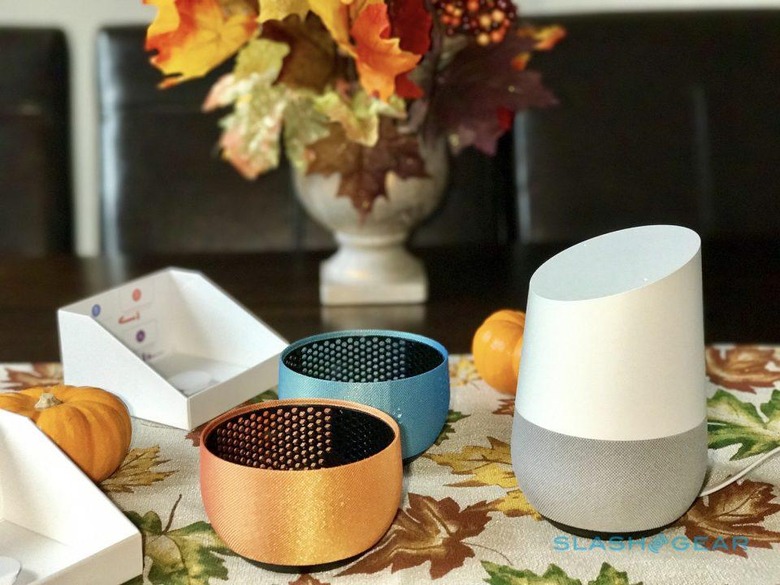 Inside, there's a 2-inch driver and twin 2-inch passive radiators, while on the bottom there's a socket for the power adapter. Despite embracing USB Type-C on the Pixel and Pixel XL, Home relies on a proprietary power plug, and there's no battery option for entirely wireless use. Slide your finger in a circle clockwise or anti-clockwise on the angled top, and you adjust the volume.
It's still early days with Google Home – too early, in fact, for a full review. Google provided us with access to the Beta Program ahead of the official public launch tomorrow, but life on the cutting edge isn't always entirely smooth. Some of the features Home promises either didn't work consistently, or wouldn't work properly at all.
First things first. Setup is straightforward: you load the Google app on your iOS or Android device, from which point you point the speaker in the direction of your WiFi network and Google account credentials. If you have a Chromecast or Chromecast Audio, they first need to be on the same WiFi network as Home in order to connect. Then, they should show up in the "Devices" section of the app.
If you have a smart home system installed, such as Nest's Learning Thermostat, Philips' Hue bulbs, or SmartThings' hub, you can add those in too. The process is broadly the same: head into "Devices", choose the type of connected gadget you'll be pairing, and in some cases (as is the case with Nest) sign into the relevant account. For multi-room products like Hue, you can assign different bulbs to different rooms: that way you can instruct a whole group to act at the same time, rather than individually.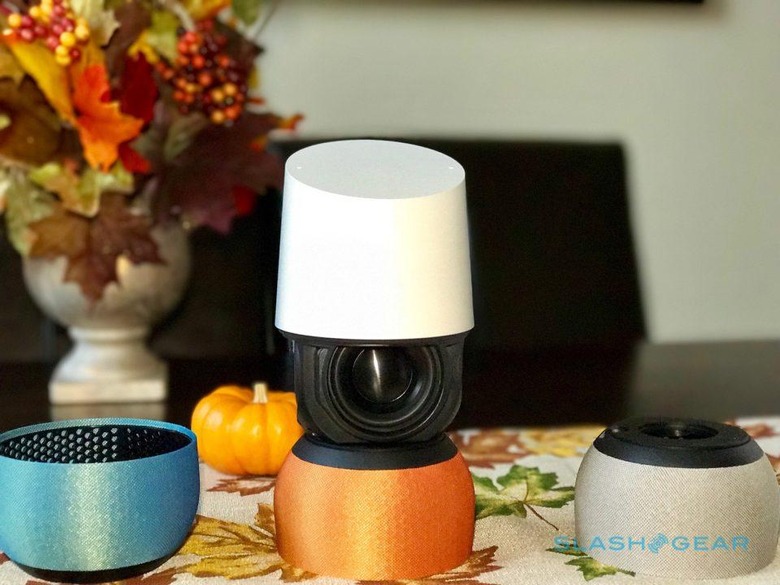 Google says more such IoT integrations are in the pipeline, though I suspect the core functionality Home supports today will cover many of the bases for the average smart home user. If they don't, there's always IFTTT, and you can set up recipes which a Home voice command can trigger. For instance, I was able to set up an IFTTT recipe that posted an update to Facebook from a Home instruction.
Audio processing is courtesy of a far-field microphone array. Most of the time, the idea is to trigger Home with one of two verbal triggers: either "Ok Google" or, a new addition with Home, "Hey Google" – the quartet of LEDs on the top flash to show the speaker is listening. Alternatively, you can tap the capacitive button on the top.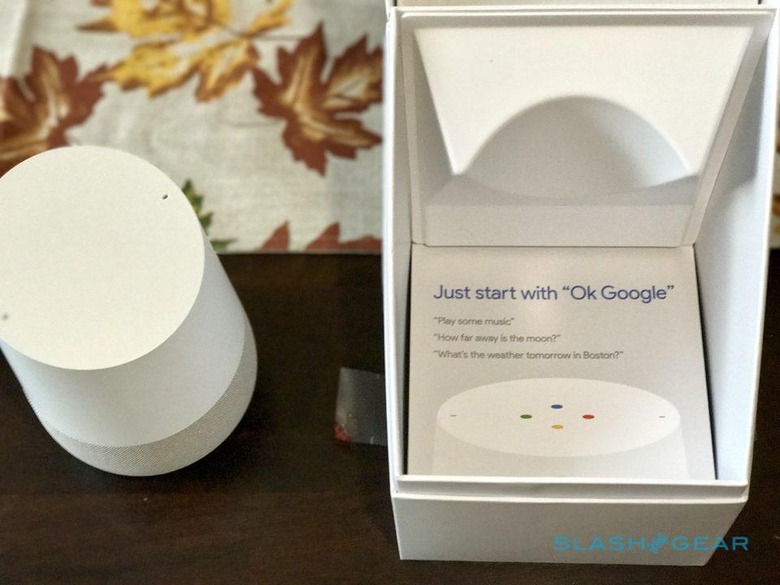 As you might expect, Google Home gets the basics right. Factual questions, like calculations or search queries that Google's knowledge graph can answer, are straightforward: the Google Assistant basically reads out the short summary result, just as Google Now would. You can set timers by voice, ask for translations of words and phrases into different languages, and check the weather: Google defaults to your current location, though you can specify a different place if you prefer.
Not everything was smooth sailing. Home did a great job of recognizing playlist names and starting up music, and though the body of the speaker might be relatively compact, there's a surprising amount of both volume and clarity that comes out during playback. Unfortunately, at times it seemed that overwhelmed the microphone array, and I had to physically tap the top to get a reaction.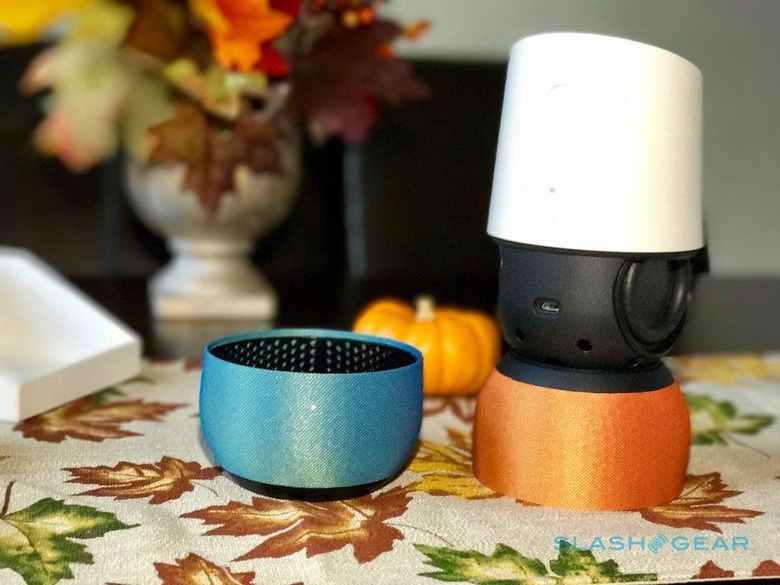 Echo, with its seven microphones, seems to do a better job at this than the pair of microphones on Home can. Sometimes by booming out "Ok Google!" I could cut through the music and have my voice recognized, but it's hardly a discrete way of interacting with your personal assistant. Incidentally, if you're paranoid about being overheard, there's also a microphone-mute button on the side too.
That wasn't the only issue, mind. While I gave permission for the Assistant to look at my calendar, Home couldn't find any upcoming appointments to read out.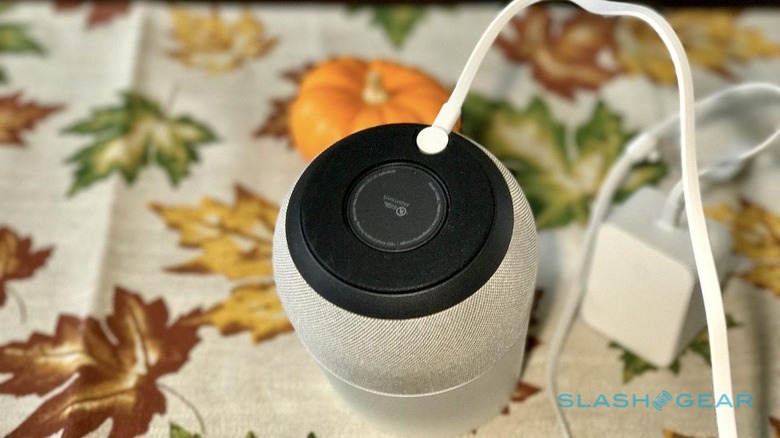 My biggest concern out of the box with Google Home is that, for a device so keen to be at the heart of your family, it's really only designed for a single person. Right now, there's only support for registering one Google account. It's that account from which the Assistant pulls calendar entries, gives you traffic reports for your commute into work, and adds to your to-do lists. It's the personal search history for that account which shapes results Google Home gives, and indeed which Home queries will in turn shape.
On the one hand, that can leave a lot of people out in the cold. Since my wife's Google account isn't registered, Google Home won't give her calendar reminders, and she can't add new appointments to her schedule by voice. If she tries, they're added to my calendar instead.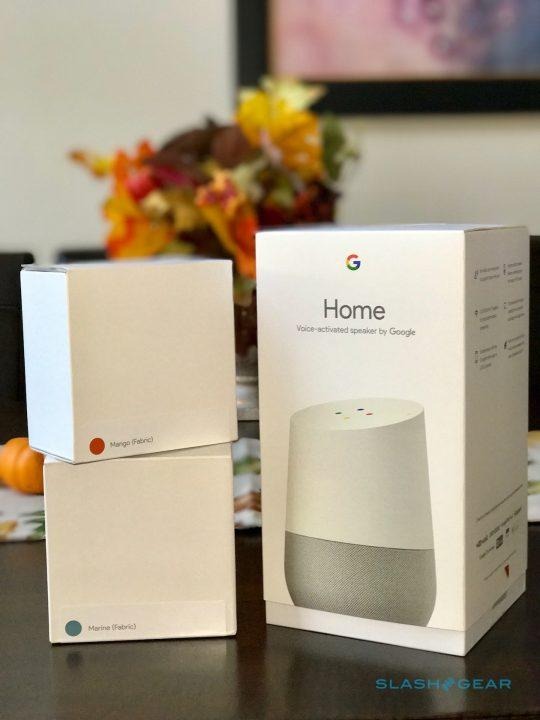 There's a more security-centric issue, though, too. You can optionally grant Google Home access to your Gmail account – the Assistant can read out new messages, for instance, as well as keep an eye out for upcoming flight itineraries and let you know when you next have travel coming up – but there's no access security, it's only an on/off toggle in the companion app. If it's turned on, anybody has access to your account, whether they be a member of your family or just a guest stopping by.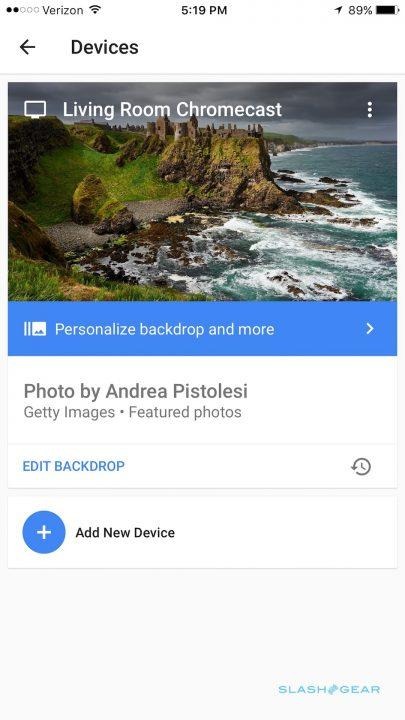 Home does support registering multiple streaming music accounts at once, so you can ask for playlists or tracks and they're pulled in across different Spotify accounts for instance. Nonetheless, unless you have a single Google account for the whole family, Home is always going to feel biased toward one person.
The flip-side of that, using multiple devices in the same location, is actually handled surprisingly well. If you have more than one instance of the Google Assistance listening out for the "Ok Google" trigger phrase – whether that be several Home speakers, or include Pixel phones and other devices – only the closest one to you will respond. I only had a single Google Home unit to test, but if you have multiple you can group them and play the same music across all of them; you can also add Chromecast Audio players to those groups too.
What I suspect Home's success will hinge on is how quickly third-party developers get onboard. Right now, though it has the basics of the smart home covered, and a handful of services such as Uber, the list of "Actions" for Home pales in comparison to Alexa's "Skills".
The good news is that, by the end of the year, Google plans to throw open "Actions" to developers to wade into. Importantly, it's not just Google Home that they'll work with: anything with the Google Assistant will be compatible. That's a sizable number of devices out of the gate, and a big potential audience for any developer weighing whether Google should be their platform of focus.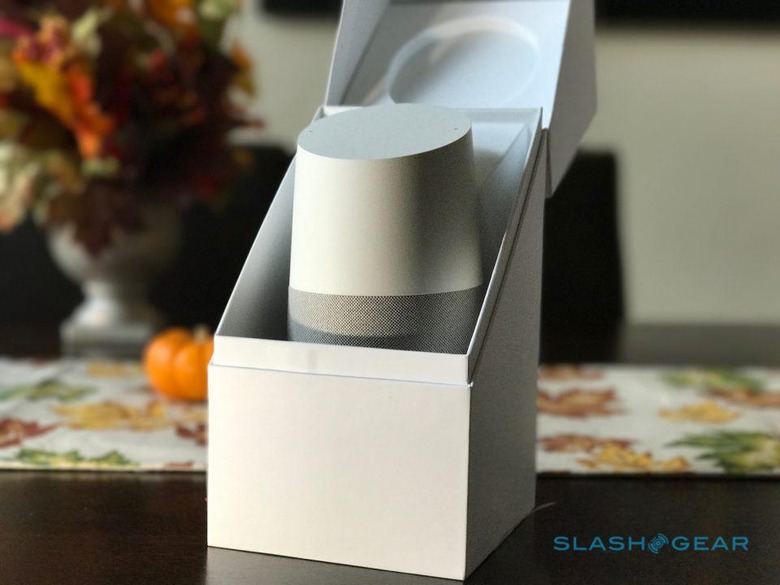 Right now, Google Home feels much like an Android smartphone with no screen and always plugged in. The multi-room audio is slick, though not a game-changer, while the Gmail, Calendar, Google Maps, and other integrations are clever but hamstrung by the fact that only registering one person's account is supported. Meanwhile, the lack of security still gives me pause, and I wish there was a way for Home to limit access to more personal data like email unless, say, it spotted my smartphone was present.
We'll have more on Google Home as we continue our testing ahead of a full review. If you're convinced already, meanwhile, they start shipping tomorrow, November 4. Price is $129.