Liquid Image VideoMasks hands-on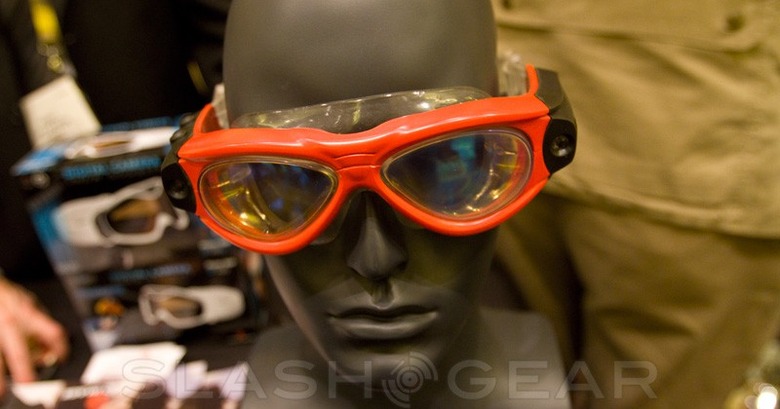 If you're considering a new camera or camcorder, you're probably not narrowing down your options by whether you can mount them on your head or not; still, if you're a diver, swimmer or snowboarder then Liquid Image could have a few models for you.  We caught up with the company's goggle-integrated "videomasks" – which range in price from $79 to $350 – at CES 2010; more details and live images after the cut.
The cheapest model Liquid Image offer is the $79 Freestyle Series Swim Camera Goggles, which pack a 1.3-megapixel camera capable of 1280 x 960 stills or 30fps VGA video with sound.  There's also an LED flashlight and 4GB of onboard storage (good for 4,000 images or 90 minutes of footage) and the rechargeable battery is apparently good for up to 90 minutes use (though you use 25 minutes of that if you keep the light switched on) at up to 15ft deep.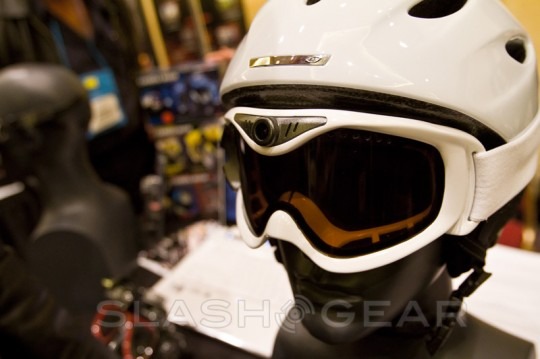 Next comes the Summit Series Snow Camera Goggles, at $149, which can be used in various snow-bound activities.  They get a 5-megapixel camera or 720 x 480 30fps video mode, with both 16GB of onboard storage and a microSD slot happy with up to 16GB cards.  The battery is good for up to 2200 stills or 2hrs 20 minutes video.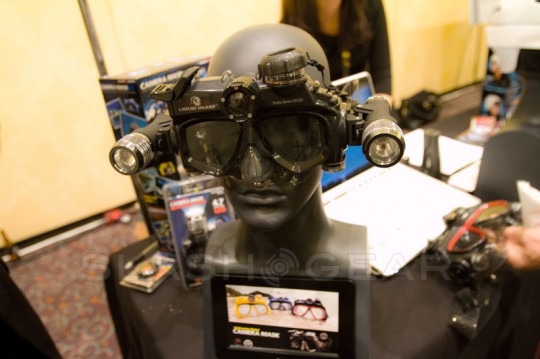 Back underwater, and $200 gets you the Liquid Image Wide Angle VideoMask 312, doubling the original VideoMask's lens capture to 135-degrees.  It captures the same quality footage as the Snow Camera Goggles, and uses the same memory system.
Finally there's the Liquid Image Wide Angle Scuba Series HD322, which clocks in at $350.  That has – as the name suggests – a wide angle lens, in this case 135-degrees, and can capture 5-megapixel stills or 720p HD video.  It uses microSD cards (2GB supplied; 32GB supported) and AAA batteries, and can be used up to 40m/130ft deep.
Hands-on, and all of the models are easy to use with oversized controls that make generous – and glove-friendly – use of levers and chunky buttons.  Inside the goggles there are indicator LEDs which do a decent job of communicating status, though with no preview display it'll take some getting used to correctly framing shots initially.  For that reason alone we'd be tempted by the latter models, with their broader angle lenses.
The Wide Angle Scuba Series goggles and the Wide Angle VideoMask goggles are set to ship in May 2010; the Summit Series Snow Camera Goggles won't arrive until Summer 2010.  Meanwhile the entry-level Freestyle Series Swim Camera Goggles should drop in April 2010.