LinkNYC Free Gigabit Wi-Fi Starts Beta With Mind-Blowing Speeds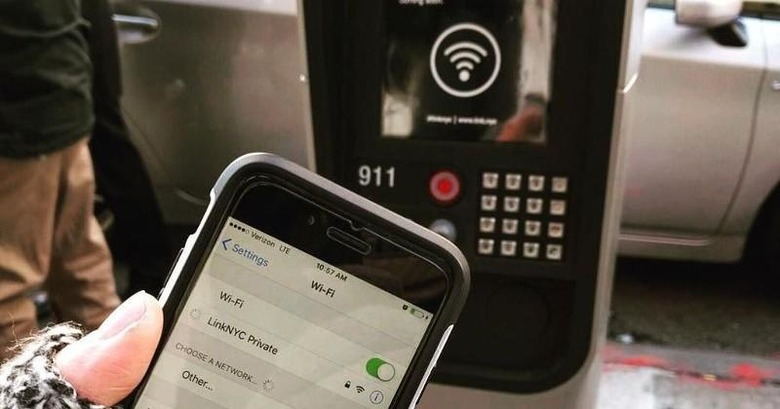 Who would have thought that free, especially from the government, would be this sweet? New York City's mission to lift the city's profile on the Internet map might just truly take off. LinkNYC, which will install gigabit Wi-Fi hotspots all over the city, has just launched in beta for a few locations. And already, the blazing fast speeds are earning it quite the accolades, at least for now. With still a few simultaneously connected users not doing anything extraordinary, not to mention improper, that might not be much of a surprise. Still, it's an achievement worth commending.
280 Mbps on downlink and nearly 318 Mbps on upload. Those where the outstanding numbers that Engadget's Devindra Hardawar got when he turned connected his iPhone to LinkNYC for the first time. That's almost 10 times as fast as your average home Wi-Fi, unless you are subscribed to faster, more expensive plans. And LinkNYC's connections are offered for free. Suffice it to say, it's bound to become a hub for people when it does launch fully, which is exactly the aim of the venture.
The Wi-Fi Isn't perfect, or at least will be less so as time progresses. Those numbers were taken on a newly opened kiosk, with very few connected users, and at a distance of "exactly in front" of the terminal. The signal, naturally, degrades over distance, up to 150 feet in theory. And as bandwidth gets congested, speed will also suffer. Still, with even just 70 Mbps a few feet away, LinkNYC's free Wi-Fi might still be better than anything you can afford.
It almost sounds too good to be true that all of this is being offered for free, but that's how things really are, at least right now and on paper. LinkNYC will support itself through ads displayed on those kiosks, though there may be other sources of revenue down the line. NYC privacy documents for LinkNYC does state that the contractor Citybridge could share anonymized, but not personally identifiable, data with third parties.
Given how hot the speeds are, LinkNYC kiosks are bound to be popular. Right now, however, they are quite rare, with 4 locations currently in operation during this beta stage, including 145 3rd Ave., 165 3rd Ave., 188 3rd Ave., 203 3rd Ave. LinkNYC offers both a Free Wi-Fi and Private networks, though the latter is compatible only with Hotspot 2.0 devices, meaning Apple's iOS crew.
SOURCE: LinkNYC