LinkedIn's Open Candidates feature helps you find a job in secret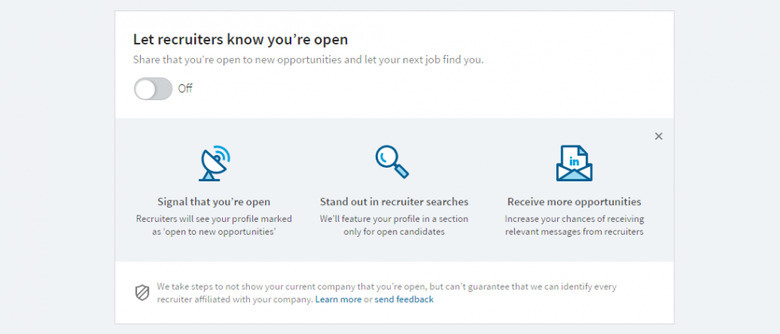 Attempting to find a new job can be a touchy process, especially if you don't want your current employer to know that you're on the hunt. Using an online service like LinkedIn can make the process even more risky, considering that recruiters from the company you're leaving are likely using that site as well. LinkedIn wants to make it easier for you to look for a new job in secrecy, rolling out a new feature called Open Candidates today.
By flipping the Open Candidates switch in your LinkedIn settings, recruiters will see a "open to new opportunity" flag on your profile, meaning you don't have to explicitly tell anyone you're looking for new work. LinkedIn is also rolling out a new section in recruiter searches that will specifically display the profiles of people who have listed themselves as open candidates, potentially bringing more opportunities to those that choose to activate Open Candidates on their page.
While the new feature will probably be welcome by people who would prefer to carry out a job search while ruffling as few feathers as possible, LinkedIn does warn that even it will try to prevent your current employer from seeing that you've listed yourself as an Open Candidate, it can't guarantee that it will be able to identify all of the recruiters associated with your company.
In other words, use at your own risk. Open Candidates is currently available in a few regions around the world, rolling out today in the US, UK, Australia, and Canada.