LinkedIn app uses Tinder-like swiping to connect students with jobs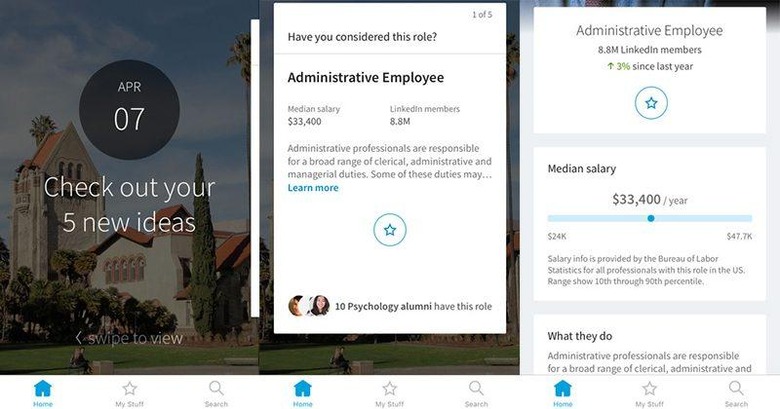 Online dating has changed a lot in the few years since I last used it. Users want to see everything on a single page on their phone, and will give a simple swipe to the left or right to determine whether or not they like someone. Well it turns out that finding a job after college might be as simple as swiping left or right, just like on Tinder.
LinkedIn is known as a site where you can share your professional experience and skills. Prospective employers tend to browse over your profile, so that they can get a more complete picture of how you stack up against other candidates. Well the company is preparing to launch an iPhone app that will help college students connect with future employers.
The app has you fill out a profile, starting with your school, major, and graduation date. You'll then be shown potential roles that you could fill, based on your major. Some of these will be directly related to your major, while others will be based on people who have the same degree.
You will also get matched up with alumni at different companies that may interest you. This is designed to help students begin the process of networking, which can be an essential part of building a career. When browsing roles, companies, and alumni contacts, students will simply swipe left or right to declare whether they're interested in the one they're looking at.
The LinkedIn Students app is available now on the iOS App Store. No word on when it will make its way to Android.
VIA: 9to5Mac