Lines outside Apple Stores may soon be a thing of the past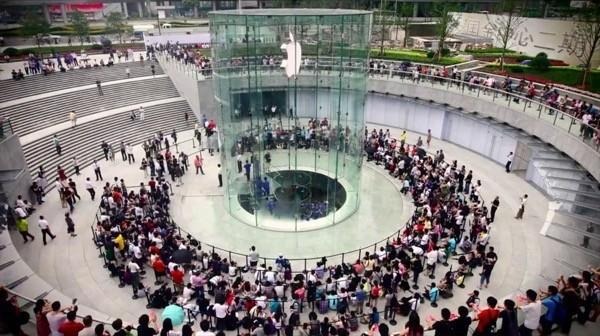 Lines outside of Apple Stores are a strange occurrence. Waiting outside for a phone or computer seems so — well, silly. It started with the first iPhone, and hasn't stopped. While Apple Stores don't see overnight lines every time they bring something new to the in-store tables, people do line up. Apple Store chief Angela Ahrendts wants that to stop, apparently. She's said to have circulated a memo to Apple Store staffers, encouraging them to tell line-squatters to buy online and pick up in store.
"The days of waiting in line and crossing fingers for a product are over for our customers" said Ahrendts. The memo was tipped to Business Insider, but a screenshot (below) offers no validity to the memo.
The memo was sent out ahead of the Apple Watch hitting stores, which we've noted can't actually be pre-ordered without a prior appointment or by pre-ordering online. You can't wait in line and pre-order one after trying it on.
Perhaps that's also part of Ahrendt's "change in mindset".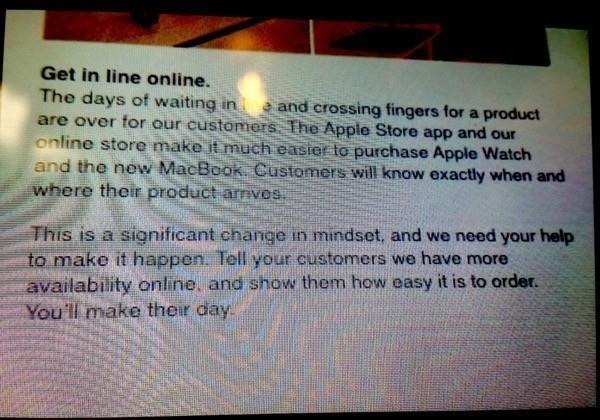 The memo also mentions Apple Watch and the new MacBook by name. We expect lines for the Apple Watch, but not so much the new MacBook. Perhaps Ahrendts is just covering her bases with new products, and aims for this to hit home with staffers.
The shift in thinking does something interesting for Apple and its stores. Rather than their being portals for obtaining goods, they're now more of a conduit for culture and service. It'll be interesting to see if Apple continues this attitude through the next iPhone, which should be another impressively large launch for the company.
Source: Business Insider