Lincoln Continental Concept quietly sneaks in luxury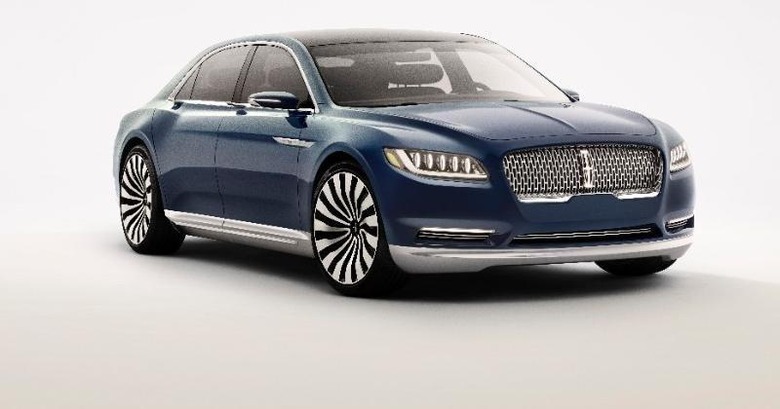 While others make a great noise about their latest, greatest, and most luxurious, Lincoln is of the opposite mindset. It believes that luxury isn't loud, obnoxious, or in your face but one that is quietly just that: luxurious. That is the statement and the gamble that the car maker is willing to make with the return of the Lincoln Continental, not as a final version but as a concept preview of what is to come. Somewhat ironically, due to the name's history, the revelation is causing some noise in the automobile world.
The Lincoln Continental Concept is meant to exude luxury very quietly, both without, within, and deeper inside. On the outside, the design of the car seems to suggest a unified, flowing whole. The all new front-grille, for example, is a single piece that features a repeating Lincoln Star pattern. The tail lamp extends through the whole width of the rear. And the door handles utilize E-Latch technology, enabling it to hide n the belt line, preventing them from breaking the side profile's surface.
The Continental Concept is also designed to give off a quiet personality without compromising on performance. The new and exclusive Lincoln EcoBoost V6 Engine with a 3.0 liter capacity promises a smooth ride while delivering power and customization through three driving profiles: normal, sport, and comfort. The SPD SmartGlass tinting sunroof sits there quietly, protecting you from harmful UV rays while providing just enough light to be comfortable.
Inside the cabin, passengers, especially the rear ones, are greeted with amenities and options that would make them feel like they're inside a comfortable and luxurious lounge instead of inside a car. There is perhaps no other color that says "luxury" than gold, and it can be found all throughout the interior, from the soft gold LED around the center console to the rose gold trim of the instrument cluster. When the front passenger seat is empty, the rear passenger can simply press a button to readjust that seat, allowing him or her to fully recline comfortably.
Of course, as a concept car, the Lincoln Continental Concept exhibits some technological features, though again, more subdued and all at the service of luxury as well as comfort. The LED matrix head lamps sport laser-assisted high beams for reducing glare while still providing suitable lighting. The full-width tail lamp boast of advanced light-through-chrome technology. And Liconln's Approach Detection lights up the car as you approach, giving drivers the feeling of being welcomed by a very dear friend.
The Lincoln Continental Concept is currently parked at the New York Auto Show. The full-size sedan itself will go into production next year to show its rivals what it means to be quietly luxurious.