Lightmare LED Watch : Do you know the time?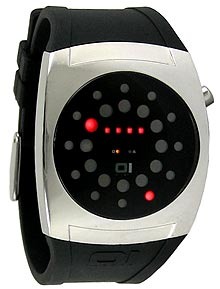 I don't know about you, but I've been itching for a new watch that makes me stop and think about what time it is. The new Lightmare will certainly do just that. With 30 LEDs strategically placed around the face of the watch, it tells the time by lighting up the the inner ring to depict the hour, and the outer ring represents five-minute increments. There are also four lights in the center that represent each of the single minutes and two that show am and pm.
Although the design may not be the most practical, it is certainly unique. The features are what you would expect from most watches. A stainless steel casing, a polyurethane strap and water resistant up to 30ft. So if you're looking for a watch that's going to turn heads, this one's for you. Just be prepared to stare at it for a minute when people ask you for the time.
Lightmare LED Watch [via Thinkgeek]