Libratone Loop wireless speaker unveiled with wall-mounting option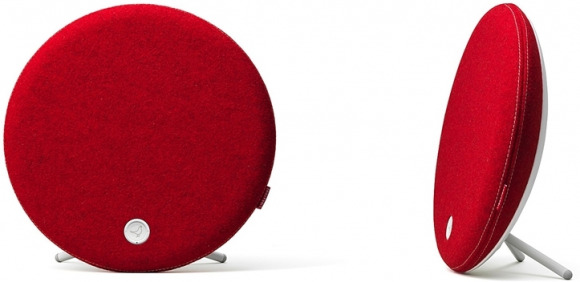 Libratone, maker of the column-shaped portable Zipp speaker we reviewed last year, has unveiled another wool-covered speaker option: the Libratone Loop. With the latest speaker, users are again provided with a wireless connectivity option, but wall-mounting has been added into the mix, allowing the speaker to be fixed to a wall in addition to being placed on a flat surface.
Use on a flat surface, such as a bookcase shelf, is provided with a small kickstand, which you can see in the image above. Libratone is hailing the device as an "objet d'art" in addition to being a stereo speaker, saying it can serve as much as an element of design in a room as it can an audio device. The wool covers can be swapped for ones of different color, with Passion Pink, Petrol Blue, Icy Blue, Pineapple Yellow, Raspberry Red, Pepper Black, and Slate Grey all being options.
There's both AirPlay and DLNA support, as well as Libratone's PlayDirect tech. Particulars like volume control are done via the company's mobile app. There's integrated Digital Signal Processing and digital amplification, as well as tweeters that are ribbon-based and the inclusion of FullRoom technology. FullRoom works by "bouncing" the audio from the walls in the room for better sound dispersion.
Libratone's Creative Director Kristian Kroyer said: "The play on geometric shapes is what characterizes Libratone's design. Having a rectangular Lounge, a triangular Live and a cylindrical Zipp, the natural next step was a circular speaker like the Libratone Loop. It's lightweight, but delivers a superior audio performance precisely because of its round shape. It represents simplicity, elegant minimalism, craftsmanship and the fusion of form and function."
The Libratone Loop will launch in the middle of next month (specific date not yet provided), and will be available at various retailers, including some Apple Stores and Apple Online, for $499.95 USD. The black, grey, and red covers are offered as standards, while the other colors are available as extra options for purchase at $59.95 USD.
SOURCE: BusinessWire