Lian Li's latest PC case is also a standing desk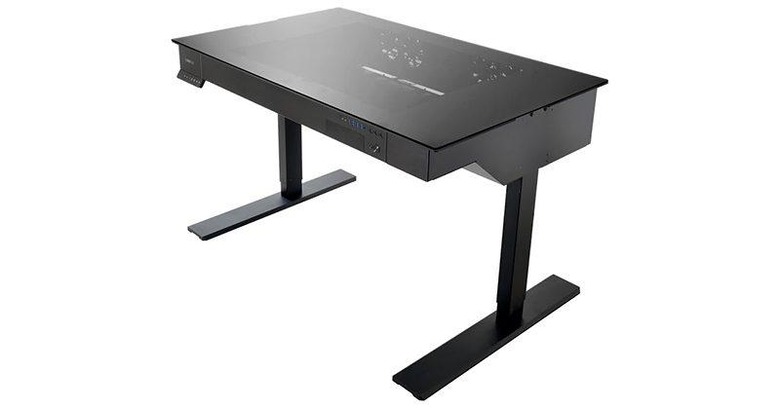 From the first computer that I could call my own, every tower has had a loving place under, or next to my desk. Since I prefer to have my main computer be stationary and powerful, it takes up a fair bit of space. And since I'd rather have as much available desktop space to attract clutter, it sits down by my feet. But what if your computer was inside of your desk? That's exactly where Lian Li wants to put it.
Standing desks have become increasingly popular over the years. After all, sitting in a chair all day probably isn't the best thing for your health. This is why Lian Li has decided to enter the standing desk market. Of course, since the company is perhaps best known for their computer cases, it should come as no surprise to find that this desk is also a computer case.
The DK-04 desk features a control panel where you can adjust the height of the desk. You can use this to program up to 4 different heights. With the press of a button, it will automatically raise or lower to the exact height saved. The desk can adjust from 67.5cm (26.4 inches) all the way up to 116cm (45.7 inches). This means you can still easily sit down and use it as a traditional desk, and then change it up when you want to stand for a while.
Next to the control panel are the USB and audio inputs, as well as your power/reset buttons, optical drive, and RGB controller. Underneath the single pane of glass is where your computer will go. It has plenty of room for an ATX motherboard, as well as all of the drives, and graphics cards that you will need. And as you might have guessed, Lian Li has packed in some nice lighting, which you can change using the RGB controller on the front.
The desk is going to set you back $1499 when it starts shipping next month.