Lian Li limited run tower PC-888 is massive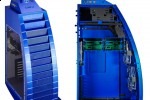 Lian Li is known for its out-of-ordinary PC armor, well constructed craftsmanship chassis with styles and quality. In fact, I still have two of the of Lian-Li cases with its infamous separate compartments design, love it; but they are rather humble, typical black case with over-sized fans, and nothing like this special edition PC-888 you about to see.
Like its previous anniversary release PC-777 to celebrate company's legacy of craftsmanship and aesthetically innovative design, the PC-888 is a full-feature tower with a uniquely parabolic front panel curved in gradually, and mesh covered side panels bearing out its design. The whole chassis is constructed from a rigid aluminum, anodized in blue color. It's another anniversary piece, but I have a feeling its timing may have something to do with the upcoming Chinese New Year, and for your information, the number 8 in Chinese culture, symbolizes fortune and prosperity; on the other hand, number 4 is entirely opposite.
Inside the massive case features dual 140mm intake fans, one 120mm exhausted fan, four units each on 5.25-inch and 3.5-inch drive bay and seven expansion slots. An I/O ports with the usual suspects as well as a card reader is built-in right on top of the case.
With limited production at 500 units, the Lian-Li is priced at an outrageous suggested retail of $640, $140 more than the individually laser-serialized Black Label Cooler Master, and the next one will top $1000, according to the company PR in a recent interview with CPU3d.
"The recent PC-888 was just a foretaste of extravagance, selling at about US$640 MSRP. We have heard rumours of a US $1000 case in the pipeline. What and how it looks is beyond me, but be prepared for another shocker. It will knock your socks off, and then probably have a place to steam-clean them too.
[bit-tech]