LG's new Sound Plate brings big sound in a slim package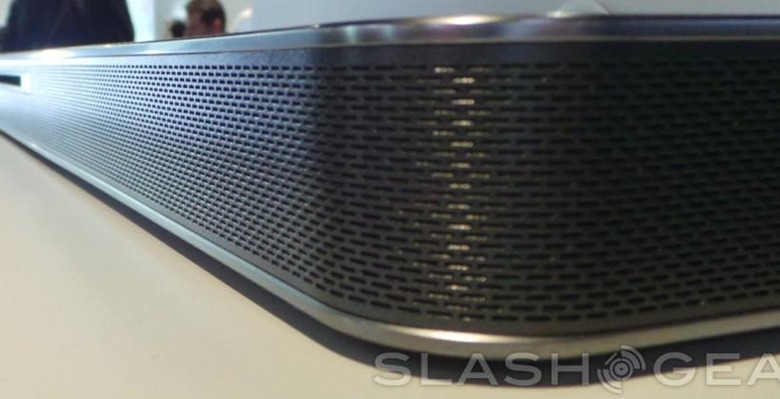 LG has a few interesting sound bars here at CES, or should we say sound plates. LG's Sound Plates offers robust sound to go along with the minimalist design. A bit deeper than some sound bars, the LG Sound Plate brings a much smarter design than we've seen in a long time, and can even be offered up with a DVD player.
The Sound Bar comes in Silver or Black, and is modern in design. With nothing much other than the screened metal looking out at you, it makes for a great accompaniment to your 77-inch LG TV we encourage you to purchase A.S.A.P. When you get a different view of it, the depth really kicks in. It's a good 12-inches plus deep, but at only 39.5mm in height, it's easy to forgive. Unless you need to wall mount a soundbar, this one is a great choice for your home theatre.
With two models to goose from, the LAP340, which is their "entry level" Sound Plate. It has a 4.1 channel output, and 120W power. Dual subwoofers hide somewhere within, and a cinema mode puts you in an immersive experience. Bluetooth and optical pairing/communication make it easy to use.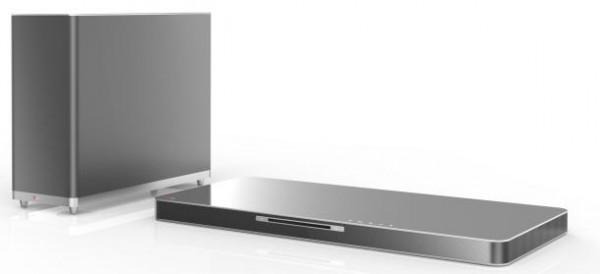 The LAB540W is a step up from the LAP340, and keeps the 4.1 channel output. It bumps the power up to 320W for more depth and volume, and brings a wirelessly connected subwoofer to the mix. The WiFi allows you to access LG's Smart TV apps, and there is even an integrated BluRay player. If you're into it, the BluRay supports 3D.