LG will put robots under the CES 2017 spotlight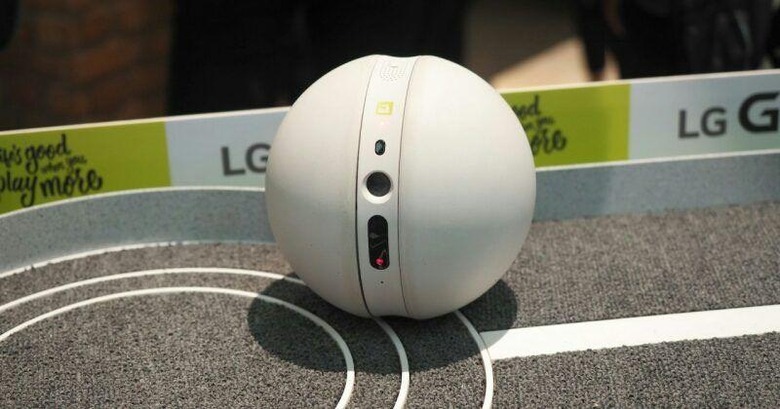 LG has its hands in almost every consumer electronics cookie jar except one: robots. Well, except maybe for the HOM-BOT robot vacuum, which everyone makes these days, and the "G5 Friend" Rolling Bot, which is practically a hi-tech toy for cats. At CES 2017, however, LG will get serious with robots as it unveils its first team of non-cleaning robots for both private and public use. And, of course, like any "smart" thing these days, they will be equipped with AI to make them feel more personal and maybe even human.
Actually, LG's latest robot set will still include a "cleaning" robot. Or more precisely a groundskeeper robot. This one, LG says, will take care of yards and gardens, which most likely involves mowing lawns and, hopefully, also picking up after it's self.
There is another robot that is aimed for public utility and commercial uses. The example the company gives is in airports and hotels, mostly for traveler assistance or information.
The most interesting, at least for consumers, will be the "Hub Robot" for homes. This one will be more like Amazon Alexa or Google Assistant, but in a robot form, acting as both a gateway as well as a personal assistant. It also sounds like Sony's Xperia Agent, which we have yet to see again.
LG has given no hint what these robots would look like, but it wouldn't be surprising if the Hub Robot has a humanoid appearance while the groundskeeping bot would take on a lawnmower form. As for the commercial informational robot, a rolling terminal wouldn't be too far-fetched.
It is interesting that LG has decided to go down a robotics route where it's rival and colleagues, like Samsung, Google, and Apple, have opted for disembodied personal assistants instead. Both paths will take them to the field of AI, though LG might be at a disadvantage in that arena, having no strong AI portfolio or presence so far.