LG unveils world's first 21:9 panoramic monitor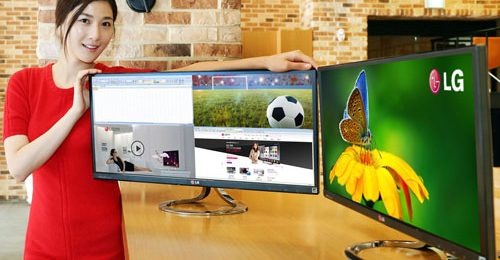 Some days it seems like there is never enough monitor real estate for all the applications you have open. Thusly you add a second monitor into the mix, which, while convenient, isn't as awesome as having one giant monitor spread before your eyes. This is where LG's EA93, a 29-inch monitor with a 21:9 aspect ratio, comes in.
Newly announced over on the LG Korea website, the EA93 is a panoramic monitor with a resolution of 2,560 x 1,080. The monitor features built-in 7w stereo speakers, and has an ultra-slim bezel for those who hate wasted space. It also offers a Super Energy Savings feature, which results in the monitor drawing about 25-percent less electricity than equivalently-sized units.
As for connectivity, the EA93 offers a DVI-D Dual port, two HDMI ports, three USB 3.0 ports, a Display Port, and Audio In/Headphone Out. The monitor has built-in software that offers a four-screen split so that users can divide their computing activities up. You can watch a movie in fullscreen mode in one of the split screens, for example.
Says the announcement, the EA93 offers life-like colors via an IPS display, and is ideal for both entertainment and multimedia, making it a "multi-entertainment" device. The monitor features 100-percent sRGB color expression. Finally, one of the HDMI ports is a mobile high-definition link, allowing users to display share with a mobile device. The monitor is available in Korea for 690,000 won ($633USD), and will be available elsewhere later this year.
[via LG Korea]