LG Unveils iMac-Like All-In-One PC With Touchscreen And Passive 3D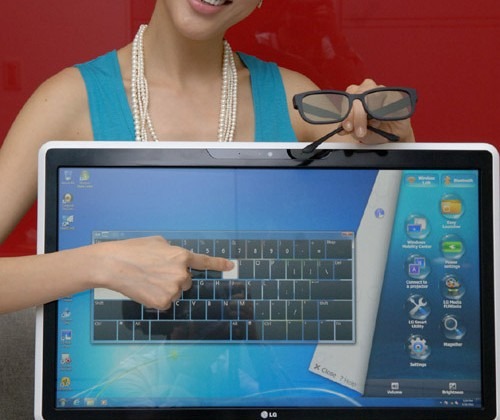 The Computex 2011 trade show in Taipei is in full swing, and LG is taking the opportunity to unveil its first ever all-in-one PC called the V300. Designed with the help of Intel, the V300 takes some styling cues from Apple's iMac but forgoes the thick bottom bezel area and adds a two attention seeking features.
The V300 isn't your regular all-in-one PC. The 23-inch full HD 1080p IPS display supports 3D with the use of passive 3D glasses. The Film-type Patterned Retarder (FPR) 3D display is the same as what's found in LG's CINEMA 3D TVs. But not only this, LG also adds multi-touch functionality to the display. Using three individual camera sensors, the display brings a higher level of prevision to the touchscreen experience.
LG's V300 also sports Intel's 2nd generation Core processors up to a Core i7. However, it is limited to 2.5-inch notebook hard drives up to 750GB and for graphics can at most use Radeon HD 6650M. The V300 is about 1.76 inches thick, which the company claims is 65 percent thinner than other leading models. The all-in-one should start shipping to Korea starting in July, and eventually expand to Asia, Europe, and the Middle East. It's not clear whether or not it would make it to the U.S.
[via Electronista]