LG ThinQ TVs get a big Google Assistant expansion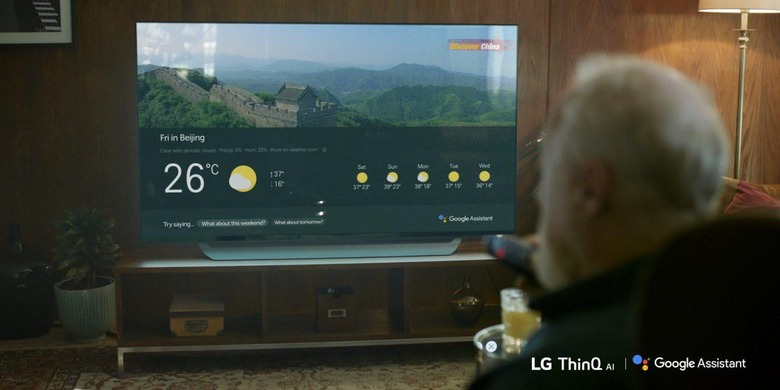 Earlier this year, LG announced a rather big team up with Google that would see Google Assistant come to 2018's lineup of ThinQ TVs. LG first announced this partnership at CES in January, then by the time Google IO rolled around, the company was ready to announce and release the TVs that would host Google's AI companion. At the time, those TVs were only confirmed for the US, but today LG announced that its support for Google Assistant will soon spread to a few other regions around the world.
To be exact, there are seven markets receiving this functionality: Australia, Canada, France, Germany, South Korea, Spain, and the United Kingdom. In English-speaking regions like the UK, Australia, and Canada, Google Assistant support is going live across LG's 2018 lineup today. LG says that Google Assistant will be launching in the remaining regions by the end of year, presumably because the company needs extra time to implement support for languages other than English.
Google Assistant support means that your TV can serve as the base of your smart home hub. You'll be able to use your TV to control the smart home devices that dot your home, whether you're looking to set a little mood lighting or listen to your music. You can issue your voice commands by either speaking into the mic on your remote or, if you already own a Google Home, by speaking into that.
This partnership between LG and Google was pretty exciting when it was initially announced because it's one of the first instances we have of Google allowing companies to implement Google Assistant on operating systems it doesn't have a hand in developing. Allowing Assistant on non-Google platforms is going to be a necessity if Google wants to grow its market share, especially as Amazon seems to be ramping up its Alexa licensing.
While we're on the topic, it's worth pointing out that LG's 2018 TV lineup is also compatible with Alexa devices, and that functionality has been tapped for an expansion of its own. LG will bring Alexa to TVs in Australia and Canada at some point in the future, but it didn't give a timeline for release. We'll keep an ear to the ground for more, so stay tuned.