LG Stylus 2 Smartphone First To Support DAB+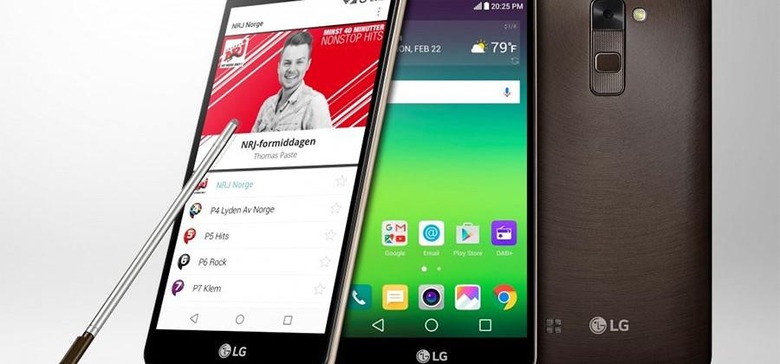 LG has rolled out a new smartphone that is the first to support Digital Audio Broadcasting. That means that users will be able to listen to digital radio transmissions for free directly from their smartphones. The smartphone is called the LG Stylus 2 and the first locations to be able to purchase the device will be Australia, Belgium, Germany, Italy, Netherlands, Norway, and the UK.
LG packs the chipset needed to support DAB+ broadcasts inside the smartphone and ships the device with an app for tuning digital radio broadcasts installed. LG also equips the device with a technical interface that enables broadcasters to develop their own apps. DAB+ broadcasts don't use data making listening to them no cost to the user.
"We are taking a proactive approach towards the fast-paced technological shift to digital broadcasting with DAB+ to deliver a new paradigm of experiences through the smartphone," said Juno Cho, president and CEO of LG Electronics Mobile Communications Company.
DAB+ broadcasts are expected to eventually replace FM radio broadcasts and digital broadcasts reach over 500 million listeners in 40 countries today. The smartphone also has a 5.7-inch screen, 1W speaker, and 3,000mAh removable battery.
"We are proud to help introduce a game-changing smartphone with an innovative company like LG. The combination of broadcasting and the internet opens up a vast array of possibilities for the future," said Gunnar Garfors, president of IDAG. "Consumers get new functionalities and media companies reach new audiences with more broadcasted free-to-air radio."
SOURCE: LG