LG reveals first Google TV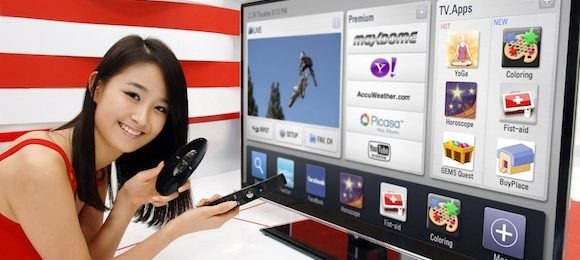 LG Electronics will showcase their new TVs powered by Google TV at CES in Las Vegas next week. Running on their own L9 chipset, the LG Smart TV is a brilliant mash up between Google's Android OS and LG's Smart TV technologies. The Google TV will feature ARM-based chipsets, allowing for a reduction in power consumption.
The LG Google TV comes with the "Magic Remote Qwerty" and a user interface based on Android Honeycomb. The Magic Remote Qwerty is a combination of its voice-controlled Magic Remote with a QWERTY keyboard. With the LG Google TV users can expect an interface and main screen designed for convenient browsing. Those hoping to do a bit of multi-tasking, don't fret. The search, social networking and TV functions can be run simultaneously.
LG's Google TV will come equipped with LG's own CINEMA 3D technology.The built-in 2D to 3D conversion engine allows any 2D content to be viewable in 3D. CINEMA 3D glasses, which are battery-free and relatively affordable, will be required for viewing 3D content. This TV looks promising, however, one specification that has yet to be released is size. But with CES just around the corner, we won't have to wait much longer for that information.
[via PR Newswire]