LG ProBeam, MiniBeam projectors break cover before IFA 2017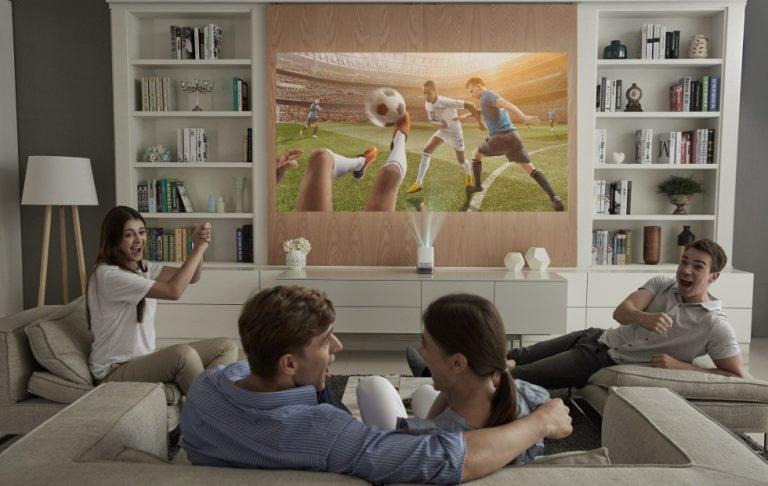 In typical LG fashion, the company preannounces the products it will be showing off at the upcoming IFA conference to give attendees more time to gawk at them instead of sitting in long-winded presentations. With the LG V30 almost all but revealed, LG is turning people's attention to its other products instead. Up first is the LG ProBeam Ultra Short Throw (UST) projector and the LG MiniBeam projector that take the hassle out of setting up an impromptu entertainment system.
Thanks to technologies like Chromecast and Smart TVs, it is almost dead simple these days to "throw" content to a larger screen for others to see and hear, but in, all those cases, the larger screen is fixed in place. Forget about moving it around the house or even outside the house. That's where more portable projectors come in, allowing you to take your screen with you, without having to build it into a smartphone.
The LG ProBeam UST isn't exactly portable, resembling more a gigantic tape dispenser than a traditional projector. It's odd design, however, makes it possible to simply place it down any furniture near a wall and being projecting. The "ultra short throw" part of the name does require that wall or surface to be really near. It promises, however, to deliver a bright 1,500 lumens image with a resolution of 1920x1080, or Full HD 1080p. It runs LG's webOS Smart TV platform inside, so you can actually use the project the moment you turn it on.
For those with more mobile needs, the LG MiniBeam might suit your lifestyle better. The portable HD projector carries its own 9,000 mAh battery to let you carry it anywhere and everywhere. Its USB-C connection is used for both mirroring screens as well as charging that battery. The MiniBeam can also pipe its audio to any Bluetooth speaker nearby.
These two "portable" projectors will be on display at LG's IFA 2017 booth from 1st to 6th September, along with other new products like the LG V30. Availability and pricing have yet to be announced.
SOURCE: LG