LG Optimus G hands-on
A device to be proud of, that's what LG hopes the Optimus G can be, and it has thrown the works at the new Android flagship to achieve it. LG has long stood in the shadow of fellow South Korean firm Samsung, but the Optimus G is a showcase of the company's own abilities in design and component manufacture. Just as Samsung does with its Galaxy flagships, piecing together the best parts of its supply chain, LG has crafted its own tour de force.
It's hard to fault the hardware, certainly. The 4.7-inch True HD IPS+ display, offering 1280 x 768 WXGA resolution, is bright, vividly colorful, and contrast-rich, a solid alternative to Super AMOLED Plus. The in-cell touchscreen technology leaves graphics floating right beneath your fingertip, and the whole thing is responsive and swift. Qualcomm's Snapdragon S4 Pro helps here; LG may not have its own chipset, but the new 1.5GHz processor at the heart of the Optimus G is a hugely capable one. LG has sensibly paired it with 2GB of RAM and at least 32GB of storage.
There are a few obvious blots on the scoresheet, however. Ice Cream Sandwich is better than Gingerbread, certainly, but it's not Android 4.1 Jelly Bean; the absence of the latest OS is unlikely to pacify those who have been stung by late or entirely absent software upgrades on previous LG phones. At least it runs with no real noticeable lag on the S4 Pro, though it does miss out on Google's latest Project Butter improvements to UI performance.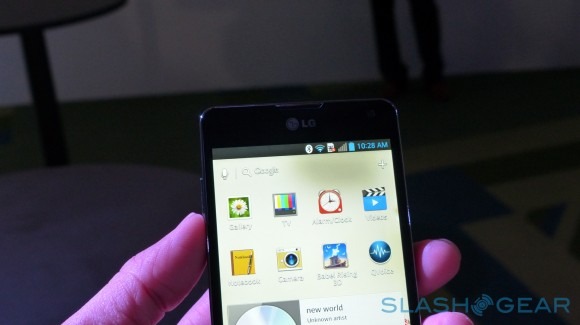 It's hard not to be a least a little impressed by the overall Optimus G package, though. It's a handsome phone, and while the shifting, refracting rear glass effect may not be to everyone's taste, it's certainly leagues ahead of the dull black plastic of some earlier high-end LG devices. It certainly raises the bar for future PRADA collaborations, with the designer phone now feeling somewhat fussy in comparison.
In the hand, it's surprisingly compact given the size of the display. LG has managed to edge ahead of the Galaxy S III in terms of thickness, coming in at 8.45mm versus the Samsung's 8.6mm, but more usefully it's a slightly narrower, shorter device, which makes for something more comfortable to hold and easier to fit into a pocket. The Optimus G feels solid, too, and flex-free despite the slimline profile.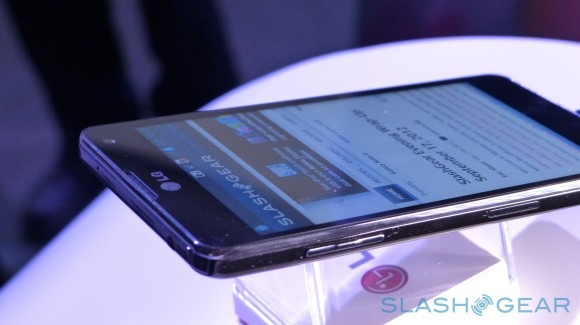 LG still has plenty to prove with the Optimus G, and it won't be able to do all that on launch day. Delivering consistent software improvements is an integral part of the Android experience now, and LG needs to prove that it can deliver on that rather than leave its new flagship behind. We'll have more on the LG Optimus G in our full review.
Unboxing Optimus G – Korean Version
Optimus G demo by Dr. Nho