LG LU7000 Gets Unveiled With Built-In DVD Player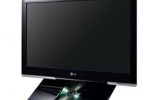 Not everyone wants a huge television taking up the space in their living room. Especially if you don't have a lot of space to give up. So it's good to see companies like LG still giving some attention to the smaller formats, which are suited perfectly for movie watching and video game playing. It doesn't hurt that LG manages to make the new LU7000 sexy, either.
Today marks the announcement from LG, regarding the launch of their new designer series of small televisions, the LU7000. Each set, from either 19" to 22-inch screens, come packed with a built-in DVD player, so that you can keep everything nice and neat, and get rid of those pesky wires at the same time. The sets are a glossy black finish, which means you probably won't want to touch them all that often, less you get fingerprints scattered across the frame of your beautiful new TV. The LU7000's also have invisible speakers built-in, keeping the sleek and minimalistic approach in tact.
The LU7000's are also Freeview integrated. There's two HDMI connections on the back, so that you can plug in any of your favorite gaming consoles, as well as home media devices or set-top boxes. The TV itself is compatible with most file formats, so that you can view JPEGs and listen to music via the USB 2.0 port. The TV is part of the movement to reduce power consumption, as it is an eco-friendly LCD alternative. The LU7000 is set to launch in the UK this month, but there is no word on pricing.