LG launches W2442PA-BF: 24-inch Full HD LCD monitor with 16:9 aspect ratio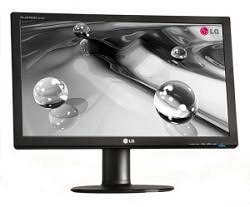 LG Electronics has launched a 24-inch widescreen format LCD monitor with 16:9 aspect ratio. Designed for digital media enthusiasts love to game or watch movies on a large computer screen, the LG W2442PA-BF offers full HD resolution of 1920 x 1080 as well as brightness of 300 cd/m2, contrast ratio of 1000:1 and a fast response time of 2ms (midtone), 5ms (B2W).
Movie lovers like to spend their popcorn hours on a computer screen would appreciate the use of Digital Fine Contrast – LG propriety contrast-enhancing display technology that can boast an impressive 10,000:1 contrast ratio, offering more depth when viewing movies.
Additionally, LG W2442PA-BF packs a set of build-in speaker and HDCP compliant DVI and HDMI inputs. The 160/170 (vertical/horizontal) viewing angles suggest a TN film panel just like the rest of 16:9 aspect ratio LCD panel we've seen so far. Price and availability have not yet been announced.