LG Glimmer Touchscreen Slider Coming To Alltel - Too Bad It Couldn't Have Hit A Better Carrier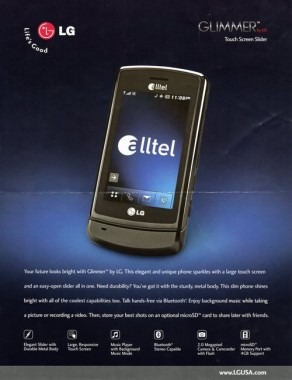 It has a 2.8-inch capacitive touchscreen and a menu similar to that of the PRADA cell phones. In fact, save for the slide out number pad, it kind of looks like a more generic version of the PRADA phone.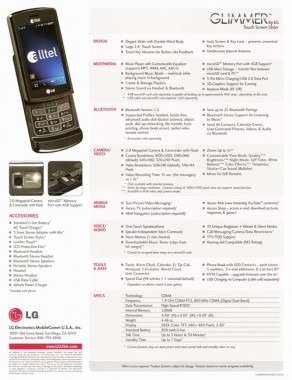 There is also a 2MP camera with flash, EV-DO, Bluetooth, and a microSD card slot for up to 4GB of memory. There is an integrated media player that will play MP3, WMA, AAC, and AAC+ audio files, either through a set of connected headphones or over the A2DP Bluetooth profile.
When connected to a PC you can also use the phone as a mass storage USB device. You get 3.5 hours of talk time or 7 days of standby time from the battery, as for size, it weighs 4.48 ounces, and measures in at 4x2.05x.59 inches in size. No word on price, or availability, but if they are already printing flyers it can't be too far off.
[via PhoneMag]