LG G8X's Korean name reveals its ties to V50 ThinQ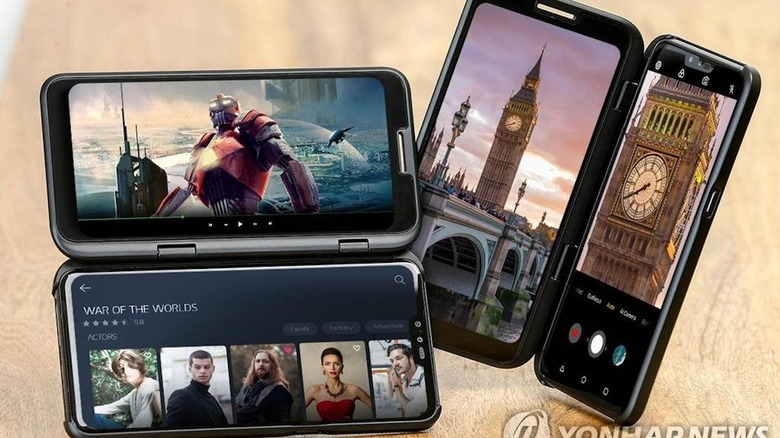 LG's teaser for IFA 2019 started with a bang but then seemed to sizzled into a dud. The company hinted very clearly that its September event will involve another dual screen setup. Not a foldable phone but one with a second screen accessory. Rumors have named that phone as the LG G8X but shares more in common with the LG V50. It isn't that surprising then, that LG is now reported to be naming the exact same phone as the LG V50S ThinQ at least in Korea, cementing its image as a step up from the early 2019 flagship.
In the past, LG would launch a G series phone in the first half of the year while the second half would be the period for the LG V line. This year, however, it launched both the LG G8 and the LG V50 at the same time, which raised questions on what LG has left for late 2019. Now it seems that it won't be much.
The LG G8X, as it was earlier leaked, seems to be a dead knocker for the LG G8, including features like a headphone jack. The only thing that changed, based on renders, is the wide notch that has been shrunk down to a waterdrop notch. Tha could imply that, unlike its immediate predecessor, it wouldn't have the same air gestures.
According to Korean media, the same phone will be called the LG V50S ThinQ in the local market. It turns out that the V series is actually more popular than the company's flagship G brand, hene the rebranding. It could also explain why, despite the G8 design, the LG G8X will have that niche V50 feature.
Whether G8X or V50S, LG is already earning not quite positive feedback on what may or may not be its late 2019 phones. Some are calling the company out for not changing that much in its upcoming phones, which probably also explains why it simply borrows the names. That, in turn, could disappoint fans who still hope that LG would rebound from its still unbroken pattern of losses.