LG G7 ThinQ durability test: unremarkable in the best way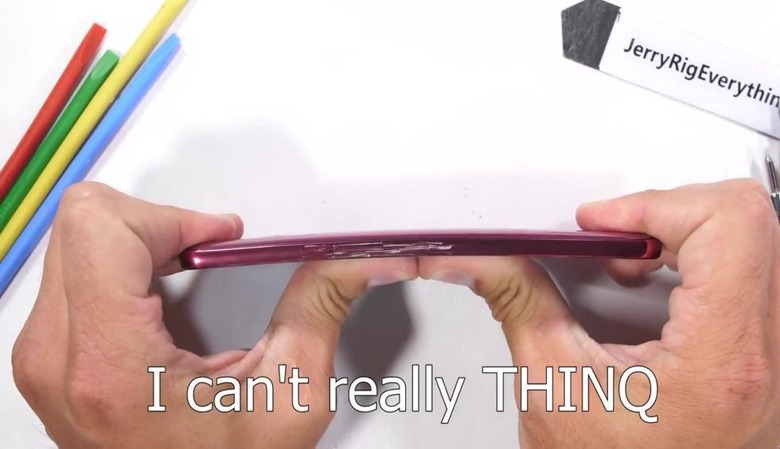 The LG G7 ThinQ is easily one of the better smartphones this year. Beautiful, well-built, and sensible, it is, unfortunately, also one of the least remarkable ones this year. But while that might be a negative, being "normal" in some cases can also be a good thing. Like in a JerryRigEverything durability test where the LG G7 ThinQ reveals no fancy gimmicks or chinks in its armor. It's just one solid and durable smartphone.
To some extent, two of Zack Nelson's three durability tests are becoming pointless. Never mind how screens are unlikely to be set on fire. Both front and glass backs these days are pretty much covered, literally and figuratively, by Corning's Gorilla Glass 5. There are, of course, a few scandalous exceptions, so it may still pay to scratch every new phone that comes out.
In both tests, the G7 ThinQ has nothing special to show. It's scratchproof against cutters and open blades, its screen heals burns over time, and it has real buttons that scratch but don't peel off. It would have scored a boring perfect 10.
It's really the bend test where things are at and, for better or worse, there's nothing special about the G7 ThinQ either. It neither bends nor breaks and doesn't even flex under Nelson's mighty hands. Nothing to see here.
The fact that the LG G7 ThinQ isn't actually that exciting as far as a torture test goes is actually a big plus on its part. Unfortunately, the smartphone will have to stand out better in other aspects if LG plans to avoid the downward trend that even Samsung is now seeing.