LG G6 Verizon Pre-Order Date And Price Leaked, Promos Too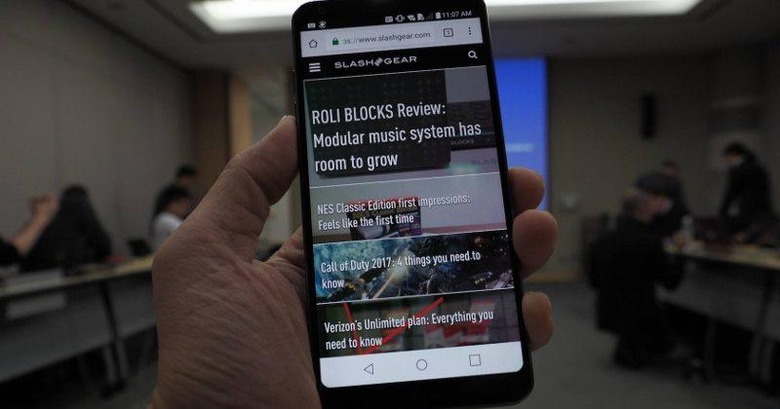 The LG G6 is arguably one of the most interesting smartphones of late, though we're barely three months into 2017. It's 18:9 FullVision screen, which is leading the pack of near bezel-free smartphones coming later this year, has many people re-thinking current conventions in smartphone displays. The G6 has exchanged eccentricity for sensibility and practicality, ending up with a solid smartphone that promises to deliver was almost all users want. The biggest question, however, is how much all of that will cost. Based on this leaked Verizon info sheet, surprisingly not that much.
Of course, by "not that much" we have to take into consideration estimated prices for this year's flagships as well as what the G6 already costs in its hometown. In Korea, it launched for 899,900 KRW, which roughly translated to $789. The leaked European pricing, however, is 750 EUR, closer to $799. Fortunately, another leak gives a more hopeful figure, at least for Verizon customers.
An internal Verizon marketing material reveals the carrier's promotional offerings for the LG G6. Anyone getting the G6 from Verizon on any plan, whether new or upgrading, gets a free Google Home speaker. Those upgrading from an existing Unlimited plan can also avail of a $200 trade-in for select devices. And those applying for a new Unlimited line will also get a 43-inch LG Smart TV. All of that is for a minimum of $678.99 at the highest level, which is still considerably lower than the earlier converted prices.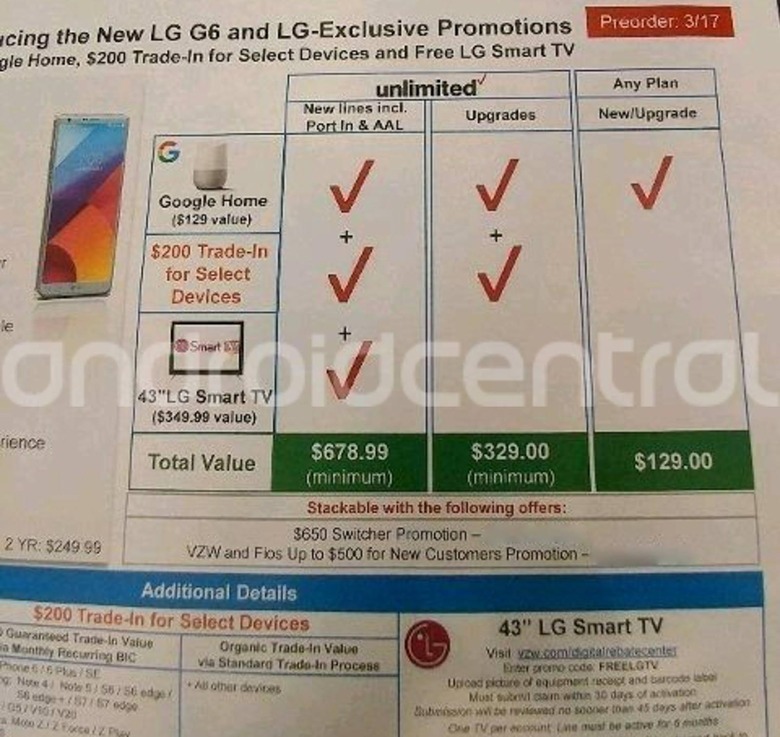 Of course, that's with the usual subscription and the device itself is said to actually sell for $672, at $28 for 24 months. That leaves the price for full retail or unlocked versions still up in the air, though it should stray too far from that figure.
As for dates, Verizon will start pre-orders for the LG G6 on 17th March. The full launch date, however, is set for 7th April.
VIA: Android Central