LG G6 teaser confirms that, yes, it will be waterproof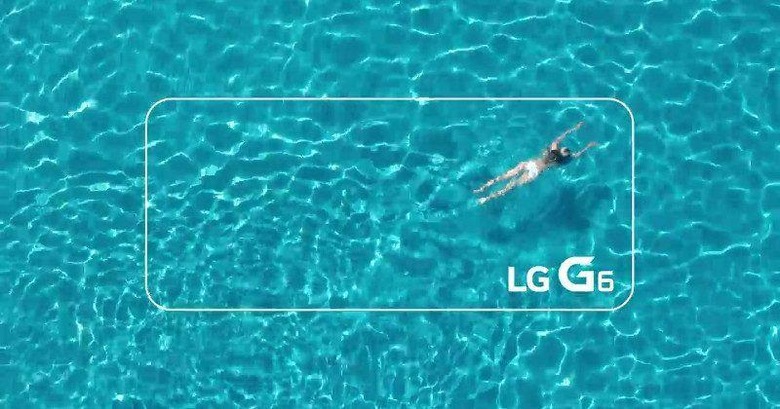 It's just a few days before MWC 2017, so, naturally, LG is kicking off its marketing engines into full gear. Which means even more breadcrumbs of clues, some of which we already more or less know. Still, it's good to see some more or less formal confirmation of those features. LG has all but confirmed that the LG G6 will be waterproof but now it is saying it as clear as this water. But as they on TV, "don't try this at home".
Waterproofing has become one of the expected staples of smartphones, especially high-end ones. After all, you would definitely be keen in protecting your $600 to $700 investment. And with few exceptions, like the Google Pixel, most flagship smartphones now come boasting of, at the very least, IP67 ratings. It seems that, for the first time (at least in a while), LG will be bringing perhaps IP68 to its hero phone.
The "6" in IP68 means that a device is protected against the ingress/entry of dust, dirt, and sand, some of the smallest particles that threaten our smartphones. The "8", however, is the more interesting part in this context. It means that a device like the LG G6 can survive being in the water for 30 minutes up to a depth of 1.5 meters.
That definitely seems to be the hint that LG is throwing in its 11-second video showing a woman swimming in clear blue water. Of course, there's no direct connection to the LG G6, other than the actual mention of the name, nor that said woman has the phone on her. And neither should you.
An IP68 rating isn't an open invitation to take your LG G6 swimming with you, despite how Sony, once upon a time, loved to boast (until it was sued). Especially not in open sea, where the abrasive sea water poses an even greater threat. It just means that you won't have a heart attack when you do accidentally drop it in the pool.