LG G5 gets Android 7.0 Nougat in Korea, others coming soon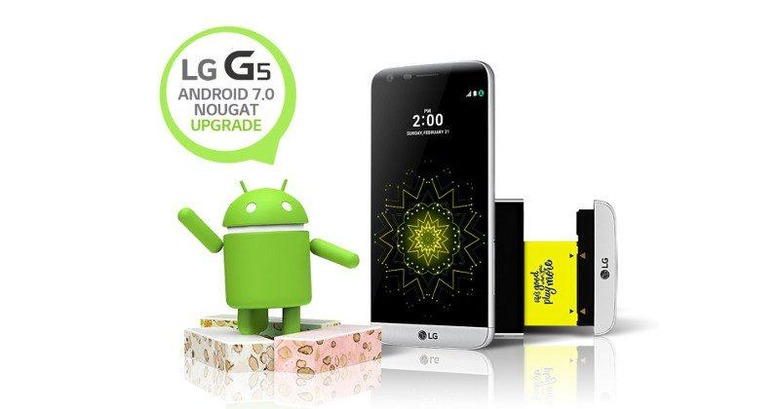 LG prided itself for having what it boasted as the first commercial smartphone to come with Android 7.0 Nougat out of the box. Now it is making another boast, this time for being the first company after Google to upgrade an existing smartphone to the latest Android version. In this case, that's the modular LG G5, which has started to receive the notification in LG's home country of South Korea. LG promises that other markets will follow soon as well.
This isn't actually a rare thing as far as LG is concerned. The South Korean manufacturer has consistently boasted of being the first to upgrade their smartphones to a new Android version, be it Lollipop, Marshmallow, or, now, Nougat. Of course, that mostly only applies to its most recent flagship smartphone. And even then, the company's track record for other updates and other smartphones aren't isn't exactly much publicized. Still, LG G5 owners probably won't complain.
Android 7.0 is probably best known for bringing better multi-tasking capabilities to the platform, particular the quick switching between two most recent apps and, most especially, split-screen multi-window support. Given the larger screen of the LG G5, that's bound to be useful. There's all the In App search feature, which is Google Now on Tap on steroids. That's on top of the usual performance improvements, including a saner Doze mode. Some features, however, like seamless updates, won't be possible with already existing devices.
The question now is whether this first dibs on Nougat will make the LG G5 look more attractive, at least for those still planning to buy a new smartphone in the coming weeks. The G5 has largely been panned as a failed attempt at fulfilling the dream of a modular smartphone, and there are rumors that the G6 next year will ditch that idea. Then again, the LG V20 is already out and it doesn't need an update to get Nougat.
SOURCE: LG