LG G5 can connect to LG's USB-C 4K monitor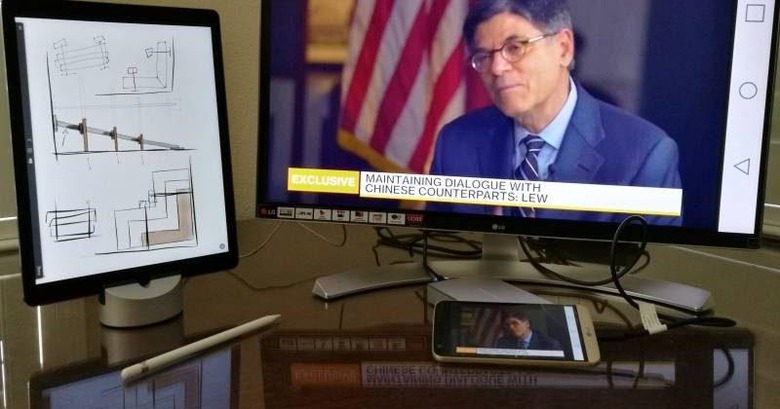 Despite being an industry standard, Google engineer Benson Leung, who worked on the Pixel C Android tablet, discovered that adoption was not only slow but also done improperly. To some extent, it's understandable given how new the technology is. So it isn't hard to imagine Leung's contentment when he discovered last month that the LG G5 actually supported the standard's Power Deliver spec. Apparently, the good news doesn't stop there, as he is now reporting that it also supports the new DisplayPort over USB-C spec, which allows it to connect to LG's own 27-inch 4K USB Type-C monitor.
USB-C was designed to be the be-all and end-all of wired connections, channeling not just the usual data but also power and even images for external displays. All with a single, small, reversible connector. Very few devices, like the new MacBook and the Pixel C, support all those use cases. Even fewer when it comes to smartphones. Most mobile devices that to support it only use it for data and basic charging, not taking advantage of features like fast Power Delivery charging or DisplayPort (DP) external screens.
Surprisingly, the LG G5 is a good USB-C citizen after all. Despite supporting Qualcomm Quick Charge, which is incompatible with USB-C Power Delivery, it actually supports PD as well through some engineering and design tricks. Now it seems it also supports DP over USB-C, at least as far as LG's own monitor goes. If you connect the LG G5 to the LG 27UD88-W Monitor, one of the few that support USB-C for display input, you will suddenly see your phone's display mirrored to the larger screen. No adapters or dongles needed, just the USB-C to USB-C cable that already comes with the monitor.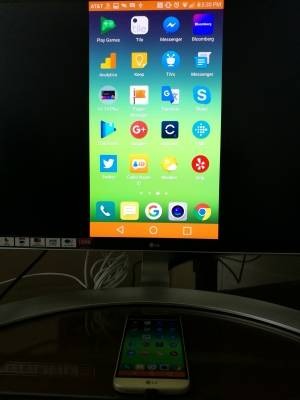 And the fun doesn't stop there! Since it supports Power Delivery, the LG G5 is also being charged while connected to the monitor. But wait, there's more! And USB device connected to the monitor also appears on the LG G5, though what you can do with those depends on the type of device attached. External hard drives will show up as USB drives on the smartphone as well.
The one caveat to this almost perfect USB-C news is that it seems to only work withe the cable supplied with the LG monitor. Other USB-C to USB-C cables, even those from Apple, apparently don't work. That might not be as bad, considering it's a very special purpose cable with a very specific use case and is most likely to always remain attached to the monitor anyway.
SOURCE: GTrusted
VIA: +Benson Leung