LG G2 hands-on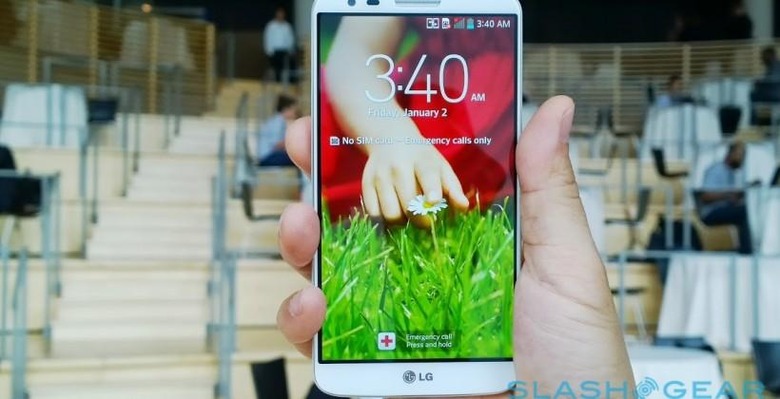 The LG G2, the company's latest Android smartphone, is here, and we've been spending some hands-on time with the 5.2-inch flagship to see how it shapes up in a crowded market. LG has dipped into all of its different divisions – displays, batteries, and more – to cherry-pick their best technologies, pairing them with Qualcomm's latest Snapdragon 800 2.3GHz quadcore and the first smartphone 13-megapixel camera with optical image stabilization. Does that make it the Android phone to have? Read on for our first impressions.
It's still a plastic handset, which won't please those who have criticized the Korean brands for sometimes cheap-feeling phones, though like the Optimus G Pro before it the G2 at least feels reasonably solid. In the hand, it's a little larger than Samsung's Galaxy S 4, though LG manages to trim down the bezels all around its touchscreen by ditching a physical home button, pushing the earpiece right up to the top edge of the phone, and switching to a new "dual-routing touch" panel which reduces the surrounding mess of cables.
In fact, there's just 2.65mm on either side of the display, versus the Galaxy S 4's already slender 3.45mm bezels, then 9.5mm up top and 12.9mm below. The display is what grabs your attention first, though: a 5.2-inch Full HD panel running at 1,920 x 1080 resolution. LG says 75.9-percent of the front of the phone is taken up by the screen, and it's certainly an eye-catcher.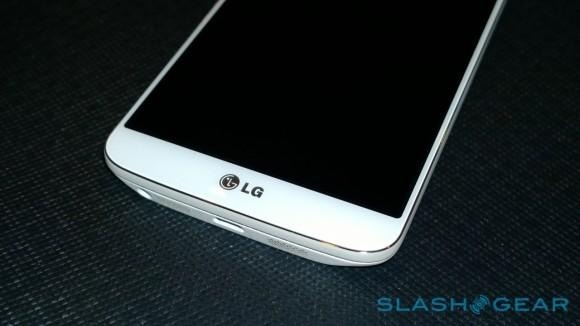 For a start, there's none of the PenTile grain that some find so frustrating on Samsung AMOLED panels, with the G2's screen being bright, colorful, and grain-free. It's also brighter than the Galaxy S 4 – LG says 450 nits at its maximum, versus 300 nits on the Samsung flagship – which, though wasted indoors, should make a difference for outdoor usability. We loved the display on the Optimus G Pro, and the G2 holds its own in terms of quality.
LG G2 walkthrough:
Also like the G Pro, the G2 has a 13-megapixel camera on the back, paired with an LED flash. This time around, though, LG has added optical image stabilization, which the company says is sufficient to allow for an 8x digital zoom without turning photos into a shaky mess. The camera app itself has been updated to support 9-point multi focus and intelligent scene detection, while over on the video side there's Full HD recording at up to 60fps, and cleverly the audio zooms along with the image if you get closer to your subject. We'll have to put the G2 through its paces with a proper photo session when we have more time with the handset, but the camera is at least fast to take shots.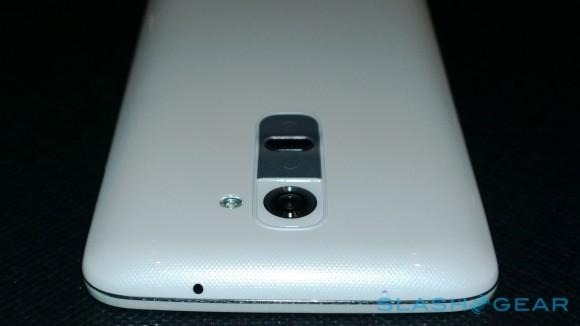 Multimedia is a big focus of the G2, in fact. It's what LG describes as the first "Hi-Fi Smartphone" with 24-bit, 192kHz audio support; somewhat weirdly the company has opted to demonstrate that by featuring sounds and samples recorded specially by the Vienna Boys' Choir. Still, it does sound impressively clear with the right source files, particularly through LG's new QuadBeat earphones which, the company claims, sound as good as a roughly $200 aftermarket set. Not all markets will necessarily get them bundled, however, and LG is yet to confirm standalone pricing.
Like other recent Android flagships, there's an IR blaster for controlling your TV, and LG claims its system is more efficient in how it learns your existing remote's codes. It's not just your A/V kit that LG's Quick Remote app controls, either; there are also settings for home automation kit, such as your air conditioning, curtains, and lights, assuming you have the existing smart home infrastructure installed.
LG G2 hands-on:
The physical controls you might normally expect to find spread around the edges of a phone, LG shifts to the back. Under the 13-megapixel camera there are touch-sensitive volume controls and the physical power button, as well as shortcut-access to LG's QuickMemo note-taking app and the camera app. It takes a little getting used to, the new positioning, and it didn't take long before we were leaving fingerprints all over the camera lens as we tried to hunt down the buttons. That's not to say you wouldn't get used to it, but just expect to be giving your G2 a quick wipe down unless you want blurry photos; happily, LG has included an anti-fingerprint coating on the sapphire glass lens, which means grease doesn't tend to stick.
What we can definitely get behind is LG's custom battery for the G2. The smartphone packs a 3,000 mAh battery, using a customized "stepped" construction that squeezes a second, slightly smaller level of cells on top of the normal set, fitting the shape of the back panel more completely. LG claims it's enough for 12 days of use, though we're assuming that means standby rather than everyday usage. Nonetheless, if the G2 can deliver a full day of runtime despite having a 5.2-inch display and a 2.3GHz Snapdragon 800 quadcore (paired with Adreno 330 GPU and 2GB of RAM), that will be impressive.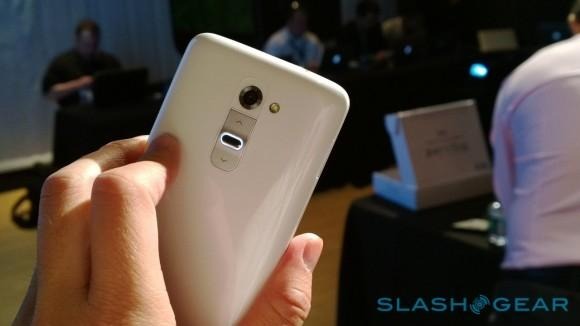 On the software side, it's Android 4.2.2 – not Android 4.3 – with LG unable to resist making some customizations. Some of the extras feel more gimmicky than others, we have to say: the "Knock On" feature, where you rap on the phone to turn it on, isn't something we can say we ever felt we needed from a phone, and while "Capture Plus" might be useful on the rare occasions when you need to grab an entire website rather than just what's on the display at the time, again it's not something we've really needed to do ourselves.
However, other features are more interesting. "Slide Aside" tries to again improve multitasking on devices that are fast becoming small tablets, with a three-finger swipe to the left adding the currently open app – complete with its full state data – into a saved cluster of up to three titles (including native, LG's own, and third-party apps). A three-finger swipe to the right pages back between those saved apps. It's a little like multitasking in full-screen mode on OS X, and it works surprisingly well for quickly navigating between, say, your calendar, a Hangouts chat, and Google Maps.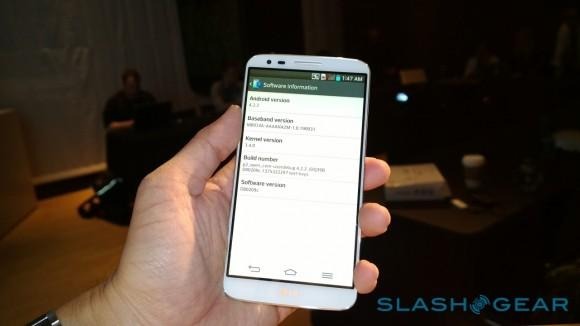 Another useful tweak across the system is "Text Link", which automatically spots text related to apps – such as dates which you might want to push into the calendar, or addresses you might want to check on Google Maps – and turns it into hyperlinks into those apps. Similarly useful is "Guest Mode", which not only allows you to hide certain apps from your kids (or spouse), but set up a completely different passcode for them so that the phone is still secure from everyone else.
LG has "borrowed" Samsung's windowed case from the Galaxy S 4, for its own LG G2 Quick Window Case, complete with a small opening in the cover-flap. It's a bigger window than Samsung uses – portrait, rather than landscape – and LG describes it as giving a "small phone in a phone": you can see time, date, and weather; interact with calls, messages, and alarms; and control your music playback. One advantage over Samsung's is that, thanks to that big cut-out, you can still use the G2's camera when the cover flap is folded all the way back, rather than having it dangle. LG will offer the Quick Windows Case in seven colors, and users will be able to switch background images as well as pick between analog or digital clocks.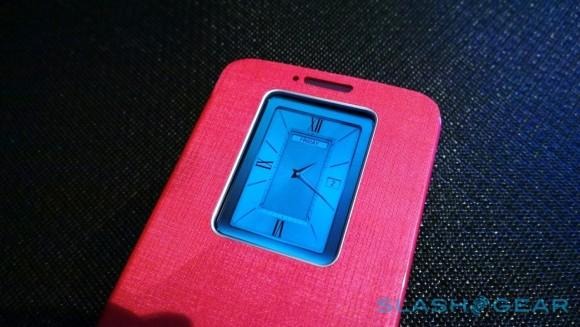 Is the LG G2 a revolution in phones? It's certainly an impressive device for LG, with the company finally doing what Samsung learned it needed to before: sift through the specialities of your own departments and grab the best of them for your own phones first. However, there's no denying that, like the Galaxy S 4, there's a feeling that the G2 is an evolutionary rather than revolutionary change.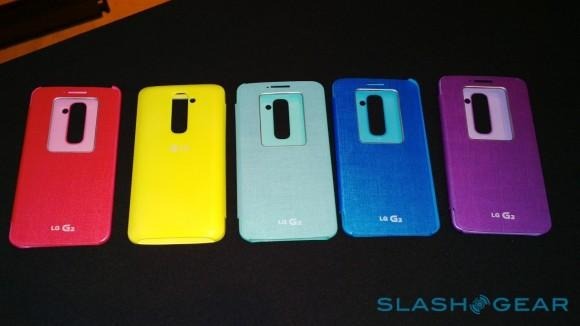 That's no bad thing in and of itself – you end up with a faster phone, a better screen, and what's shaping up to be a more impressive camera than the Optimus G and the G Pro, after all – but it falls short of addressing the increasing role of context in our mobile devices. Unlike the Moto X, for instance, where Motorola opted for a less powerful chip but paired with software optimization, LG has taken the more commonplace route of throwing the latest and greatest chips inside, and then attempting to satisfy their power demands by squeezing in a bigger battery.
We'll have to spend more time with the LG G2 to see if that balance pays off, before the smartphone arrives on all four major carriers in the US. For the moment, enjoy our hands-on video demo, and let us know what you think in the comments.
LG G2 walkthrough with Dr Ram Chan Woo:
Update: We had the opportunity to run some preliminary benchmarks on the G2. Now, it's important to remember that this is unfinalized software and hardware, so don't draw too many conclusions from the numbers beyond "this is a fast phone". We'll have more solid impressions to share in our full review with a production device.