LG CineBeam 4K projector works with just a few inches of space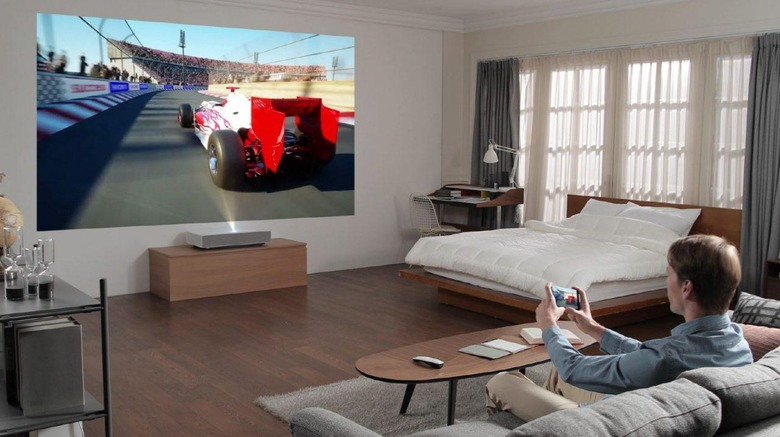 Earlier this year, LG showed up to CES with the CineBeam HU80K, its first 4K projector. With the HU80K, the focus was on creating a capable projector that was still easily portable. At CES 2019, the company will be debuting a second-generation follow up to the original CineBeam, and though the idea is still to fit a 4K projector into as small a footprint as possible, this new model has a feature that makes it standout from its predecessor.
Officially known as model HU85L, this new projector uses Ultra Short Throw technology, which means that it can be placed close to the wall it'll be projecting an image onto. LG says that when the HU85L is placed "a little more than 2 inches from the wall," it can project a 90-inch diagonal image. Give it seven inches of space to work with, and image size grows to 120-inches diagonally.
Brightness tops out at 2,500 ANSI lumens and, just as you'd expect, the projector comes equipped with USB, Ethernet, and HDMI ports for device connectivity. It's also compatible with LG's ThinQ AI, which means that you'll be able to control playback with voice controls. LG says that you can be as specific as "turn off projector after the movie has finished," which sounds pretty neat.
Though overall size is still one of LG's primary concerns with the HU85L, the company didn't give specific dimensions in its announcement today. Price is another unknown as well, though it's worth pointing out that the HU80K is still available at a $2,499 price point. We can probably assume that the HU85L is going to be priced similarly, but until we get confirmation from LG, we obviously can't know for sure.
We don't have much longer to wait before finding out, though. LG will have the HU85L on display at CES 2019 next month, and it's then that we expect more specifics to be revealed. We'll keep an eye out for details like pricing and release date, so stay tuned for more.