LG AI TVs first to gain AirPlay 2 and HomeKit support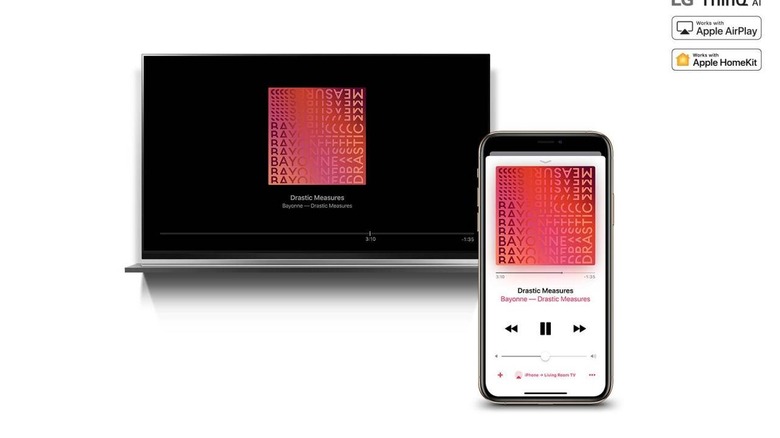 Apple naturally has its own smart home and wireless communication ecosystems and, unsurprisingly, it's a very exclusive club. Not just any manufacturer can invite themselves in and support Apple's technologies. No wonder, then, that LG is quite proud of the fact that it is the first TV maker to have support not just for AirPlay 2 but even for HomeKit itself, delivering compatibility with Apple devices for owners of its 2019 AI TVs.
With AirPlay 2 report, LG's brand new TVs will able to watch content coming from iPhones, iPads, and even Macs wirelessly. That includes even videos with Dolby Vision, which the AI TVs also support. Of course, it's a perfect setup for Apple TV owners and it's not limited to videos either. It supports streaming Apple Music, Podcasts, even displaying photos on the large screen.
On the other hand, HomeKit communication allows those same Apple devices to control the TV from their mobile devices. Turning the TV on or off, adjusting the volume, or even change the source using the HomeKit app, which is available on macOS now as well. Or, better yet, simply call on Siri to save you from tapping or typing.
Support for AirPlay 2 and HomeKit will be rolling starting this week to LG's AI-enabled TVs. That includes both the 2019 LG OLED sets and NanoCell TVs sold in 140 countries around the world. Availability of AirPlay and HomeKit services, of course, vary from region to region.
With the addition of support for Apple's technology, LG's AI TVs now have support for three of the biggest streaming and smart home ecosystems in the market. From the get-go, it has support for Google Assistant and Google Home while it added support for Amazon Alexa in May.