LG 88-inch 8K OLED TV is ready for CES 2018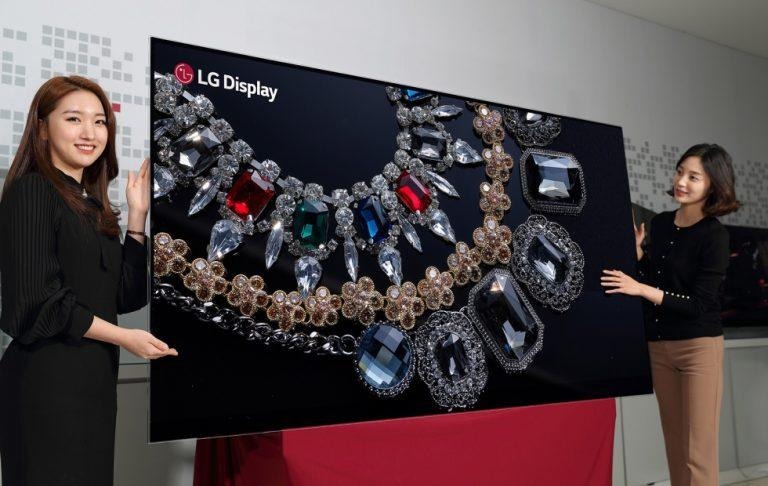 The TV-making industry is just as aggressive as smartphones these days. Especially after a long lull where there was barely any major innovation, trend, or hype pushing the market forward. Now we have curved screens, 4K resolutions, multiple HDR standards, and quantum or nano particles. If LG is to be asked, however, there is one more new territory to conquer: 8K. The Korean consumer electronics giant has just unveiled its newest and biggest TV yet, with an 88-inch panel sporting the world's largest TV resolution.
That means that the screen has a resolution of 7680x4320 pixels, a.k.a. 8K. The highest resolution on commercial TVs so far is 4K or Ultra HD, which is what TV makers are pushing in their flagship models.
This new TV practically puts LG on top of the OLED display race, at least as far as big panels go. Its closest rival, Samsung, has already moved from OLEDs to QLEDs, short for Quantum LED, for its TVs, leaving LG as the undisputed champ. When it comes to small OLED screens, however, Samsung's Super AMOLED panels for mobile devices has had a head start compared to LG.
This announcement comes at a time when LG is ramping up its OLED operations and increasing its production capacity. For the first time, it will be setting up its first OLED plant outside of Korea. The new facility in Guangzhou, China, was recently just approved by the Korean government as part of the two countries' attempts to improve relations.
But while LG's 88-inch 8K OLED TV is ready for CES 2018 this month, it's going to take a while before it becomes ready for the market, much less for regular consumers. The entertainment industry is just catching up with support for 4K and will take a bit longer to rally behind 8K at this rate.
VIA: Engadget