LG 84-inch 3D TV and more shown off at SID 2010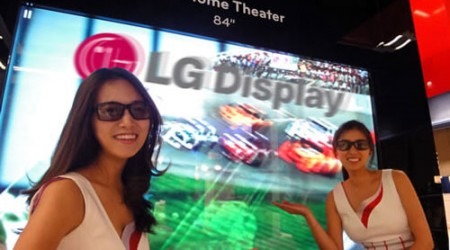 LG has whipped out a massive new 3D TV that has a gigantic 84-inch screen. The set has better than 1080p resolution with a native resolution of 3840 x 2160. I'm not sure how you can enjoy that high a resolution short PC gaming or running multiple 1080p windows on the screen at once.
LG is also showing off a new HDTV screen alongside the 84-inch beast at SID 2010 that uses liquid lens tech to eliminate the need for glasses for 3D viewing. 3D images with no glasses are what many consumers are waiting for before upgrading.
A number of other LG products are being shown off at SID including a 10.1-inch curved LCD, a TV panel only 2.6mm thick, and a 15.6-inch notebook LCD with the world's lowest power consumption. It's always cool to see what the future holds for the TV and LCD industry.