LG 77-Inch Ultra HD Curved OLED TV Is The World's Largest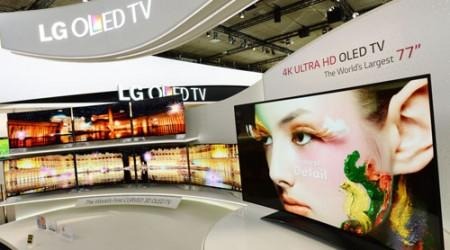 Clearly, the big thing at IFA 2013 for TV manufacturers this year is curved televisions. So far, we've seen curved OLED sets and curved LED TVs at the show. LG has rolled out what it claims to be the world's largest curved screen OLED TV called simply enough the 77-inch Ultra HD Curved OLED TV.
LG says that the new 77-inch behemoth follows in the footsteps of its 55-inch curved OLED TV that debuted during CES earlier this year. The TV supports full 4K ultra HD resolution promising significantly more image quality than standard 1080p can muster.
LG didn't offer up all of the details on the world's largest ultra HD OLED television keeping some the specs itself. For instance, it's unclear exactly how bright the TV is or exactly what the contrast ratio is. We also don't know how much the TV will cost. It's safe to say it will be incredibly expensive though.
Consider that many of the curved 1080p televisions on the market, such as the one from Samsung, featuring curved OLED screens sell for $9000 or more and anything this large with 4K resolution is sure to be several times that amount. We have people on the ground at IFA and will have a hands-on with this massive TV later today.
SOURCE: LG