LG 2020 soundbars use AI to self-calibrate based on room acoustics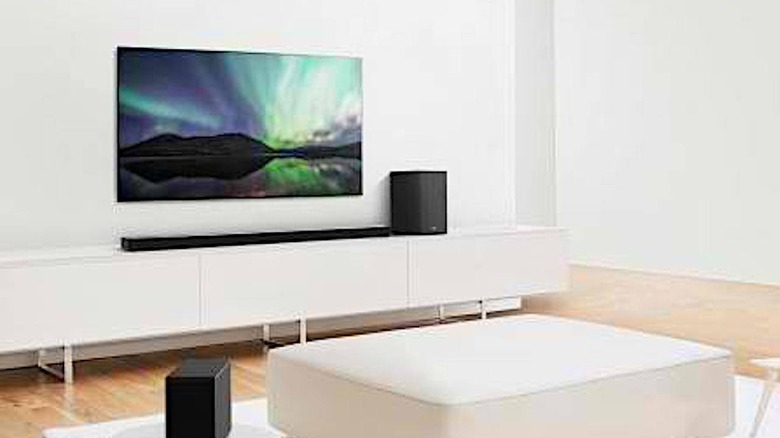 Audiophiles often talk about the nuances one needs to consider in the perfect audio setup but not everyone has the patience, time, or knowledge to make the tweaks needed for that kind of experience. For all but the most meticulous audio buff, speakers tend to be left at their default settings. LG's promise for its next generation of soundbars is that you won't have to do that yourself takes to its new AI Room Calibration that lets these smart speakers do the work for you.
Each room is different and so is each listener. There is no one setting that fits all and human ears and tastes can make calibrating speakers a tad difficult. The 2020 premium range of LG soundbars takes a load off your shoulders by automatically adjusting the output based on the dimensions of the space they are installed in.
This AI Room Calibration goes hand in hand with Meridian Audio tuning, Dolby Atmos and DTS:X surround features that make it sound like the audio is coming from multiple directions. Advanced processing also upscales audio to a quality that sounds like it came from a professional studio. And if that weren't enough, you can also connect SPK8 Wireless Speakers and let the 4K Pass-Through carry the quality over.
Self-calibration isn't the only smart thing about the LG soundbars. As with its previous generations, the 2020 lineup will have Google Assistant built-in, allowing for hands-free voice control of their smart home.
LG's premium 2020 soundbars included the SN10YG, SN9YG, SN8YG, and the 7.1.4-channel SN11RG. Of course, LG bills these as the perfect audio partners or its slim 55-inch and 65-inch TVs. These, along with LG's new UltraFine monitors and Indoor Gardening Appliance, will be on show at CES 2020 in Las Vegas next month.