Lexar touts first 1000x CompactFlash memory card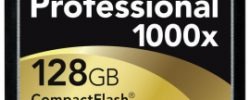 Lexar today announced the industry's first 1000x CompactFlash memory cards. Professional photographers and videographers will appreciate these blazing-fast cards, which offers a minimum guaranteed sustained read speed of 150MB per second of faster and a write speed of 145MB per second.
Although even certain high-end cameras can't match the 1000x data transfer speeds, it will help with shooting bursts of photos as well as for transferring images to your computer, especially with high-speed ports such as USB 3.0. This can help accelerate your workflow.
The cards support the Video Performance Guarantee (VPG-20) specification for professional quality videos at high frame rates without dropped frames. This enables capturing and storing 1080p Full HD videos and 3D videos as well.
The cards come in 16GB, 32GB, 64GB, and 128GB capacities and are priced at $169.99, $299.99, $529.99, and $899.99, respectively. They will be available in February.
[via CNET]