Lexar 256GB Professional 1000x microSDXC card inbound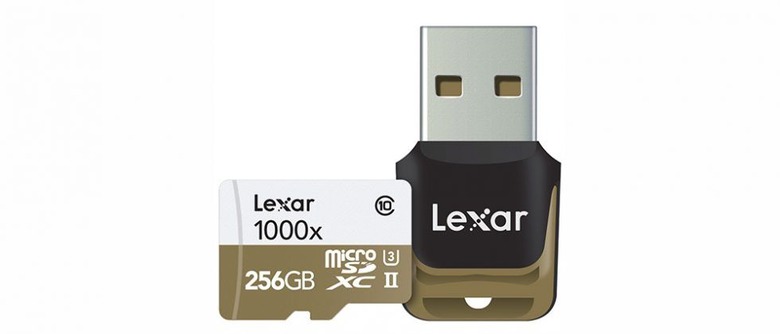 Lexar has taken the wraps off its new 256GB capacity Professional 1000x microSDXC UHS-II U3 card. This product joins the three previous cards in this lineup, each with lesser capacities. Thanks to the UHS-II tech, this microSD card is capable of read transfer speeds up to 150MB/s, as well as a write speed of up to 90MB/s. The new microSDXC card will be available to purchase in the first quarter of this year.
Lexar introduced the new card on Monday, saying it has a 'Works with GoPro' designation and is in general designed for use with things like sports/action cameras, as well as smartphones and tablets. The UHS Speed Class 3 means users can use this microSDXC card to record 4K-resolution and 3D videos for 'extended lengths' of time.
The new higher-capacity 256GB offering means users can store 36 hours or more of high-definition video, or 58,100 songs or 67,600 or so photographs. This is compared to the lineup's existing 32GB, 64GB, and 128GB card offerings.
Because this is a 'Professional' model card, buyers get a lifetime copy of Image Rescue software for recovering files should they be accidentally deleted. As well, the card itself has a lifetime warranty. Lexar says it will be available some time in the first quarter of this year (so by the end of March) with a price of $349.99 USD.