Level 257: A Day At The Upscale Pac-Man Themed Arcade And Lounge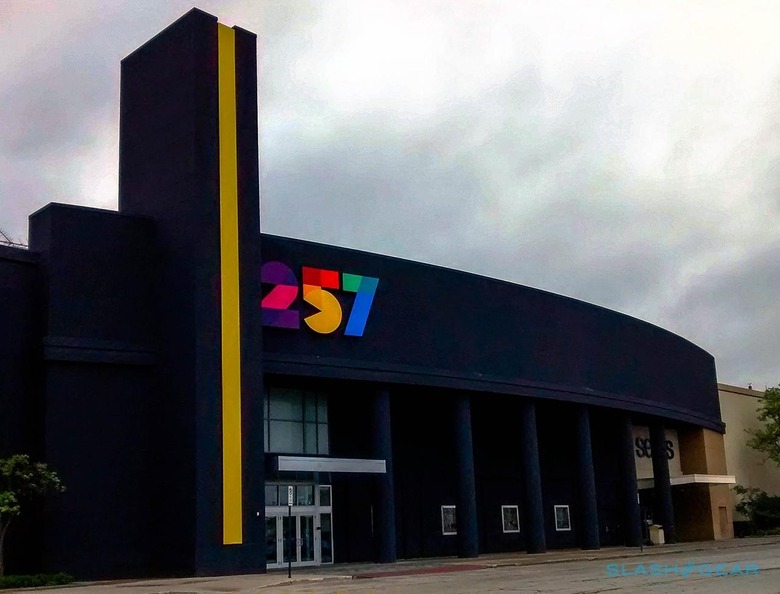 "To play is human." Such is the philosophy behind Level 257, a new luxurious lounge, arcade, restaurant, and bowling center near Chicago. Whatever you think it is, you're wrong. It's not an arcade. It's not a bowling alley. It's not a lounge. It's not a restaurant. At least, it's not any of those things in the way you're thinking of them. Level 257 is a place all of its own, and no single part of it exists separate of the other. It is luxury that invites you to dress casually. It is an arcade woven around a miniature library. It is sparkling bowling lanes a few paces from a full bar and cushioned leather lounge seating. It is, ultimately, an experience.
Level 257
Level 257 is located in Schaumburg, Illinois, and it only recently opened its doors to the public. It is located in the Woodfield Mall, and it is impossible to miss with its imposing matte black exterior. You know before entering that Pac-Man holds the top slot amongst Level 257's design structure, not the least of which is due to its name.
The original Pac-Man arcade game ends at level 256, and so Level 257 honors it in name while going one level higher. If you don't realize that when approaching the building, though, it becomes apparent that Level 257's central theme is Pac-Man upon entering the front doors and seeing this platitude: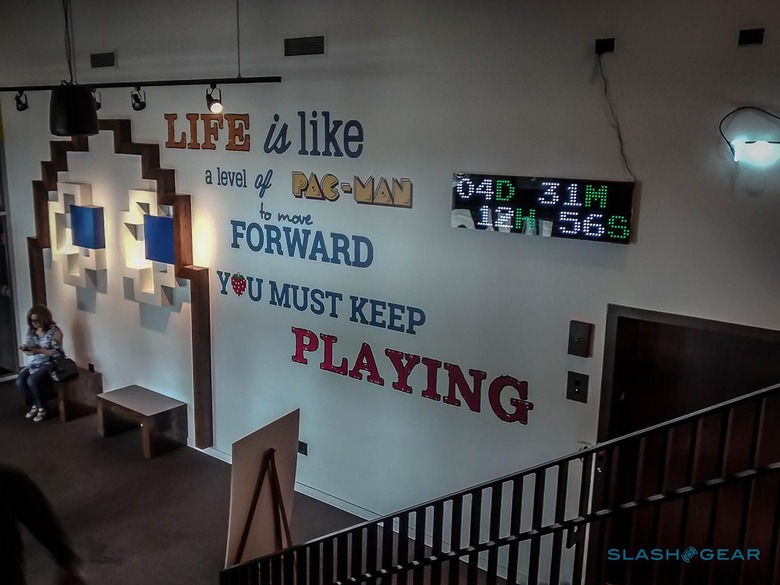 Level 257 has a huge 42,000sqft "playground", as it calls it, but you never feel overwhelmed or lost — in fact, upon entering the building you'll feel underwhelmed. The first floor isn't home to the fun; it is merely a small entryway with a store to the left and a staircase to the right (as well as an elevator if you're so inclined). The tame design seems deliberate, however, serving to make your arrival on the second floor all the better.
The upstairs level is designed around the elevator itself so that when the doors open you are center in the space and facing a reception desk of sorts. Behind the staff is an elevated dining area with a bar. Look to the right and you will see shimmering bowling lanes; look to the left and you will see the same. Glimpses of gaming machines can be seen, as well, but the first thing that stands out is how greatly you underestimated what Level 257 is.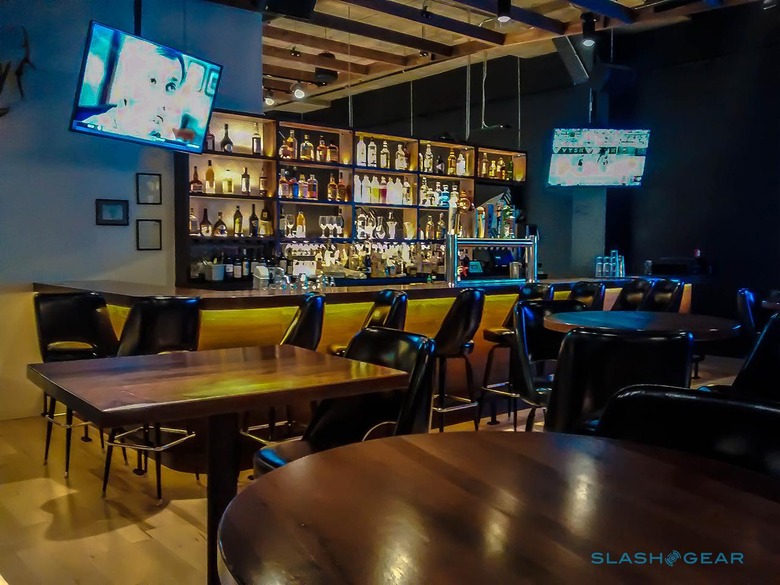 Approach the desk and one of the attendants is quick to introduce you to the place. They'll offer a tour, and if it's your first time it is probably best to take it. The first place to head, though, is the dining area to get your fill. That's only a few paces forward. There's seating — the tables are made of thick dark wood and the seats are cushioned, studded black leather — in the dining area itself, as well as outside of the booth at enclosed bar-height tables near the bowling lanes. If that's not your thing, there are also two bars: one near a lounge outside of the dining area and another larger one inside of the dining space.
I arrived on a Sunday around 10AM and they were serving "brunch" — something new they'd just started, the staff told me — though it was far more of a three-course meal than what one would consider brunch. More on the food later, though.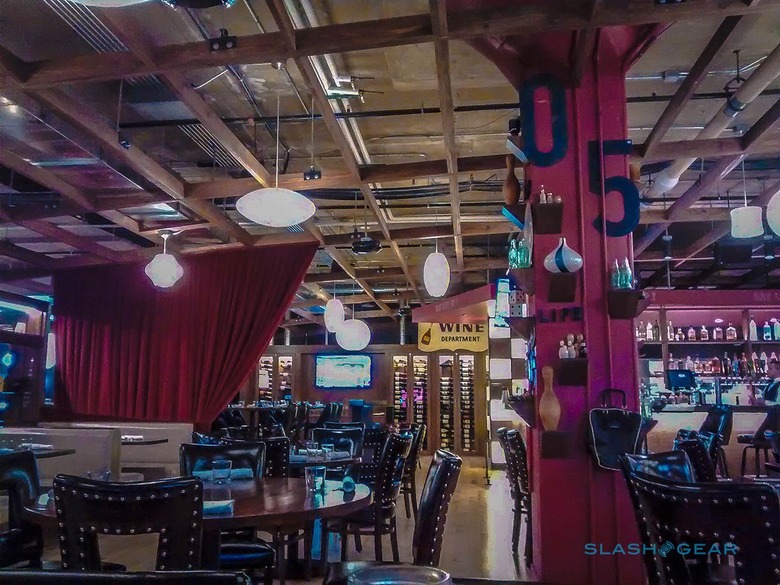 Level 257's design is impeccable. The ceiling is open with a concrete ceiling with exposed (as in visible) piping and ductwork. This leads to red bars and large industrial ceiling-to-floor beams, and is quickly polished with wood flooring, modern lighting, shimmering walls (except in the arcade, where they are black), and a massive game display in one lounge area. Modern — though carefully tailored — music plays just loud enough to hear, but never so loud as to be bothersome. In short, the attention to detail is flawless.
Food and drinks
If you're at Level 257 to both dine and play, it is wise to do the dining first. The reason is how the games are funded — through reloadable cards that are time-based rather than balance-based. This means a 60 minute card, they are careful to point out, will start counting down to 0 as soon as the first game is played, and so playing a couple games and then leaving to eat will largely waste the time on your card.
The dining seemed to go one of two ways with visitors: some were pleasantly surprised at the quality, and others were unfortunately surprised by the high cost. It depends on what your expectations are. Brunch on that Sunday morning cost $25 USD, placing the dining experience more in the realm of "nice meal" or "out on a date" rather than a place where you'll pop in with the kids to grab lunch and play a few games.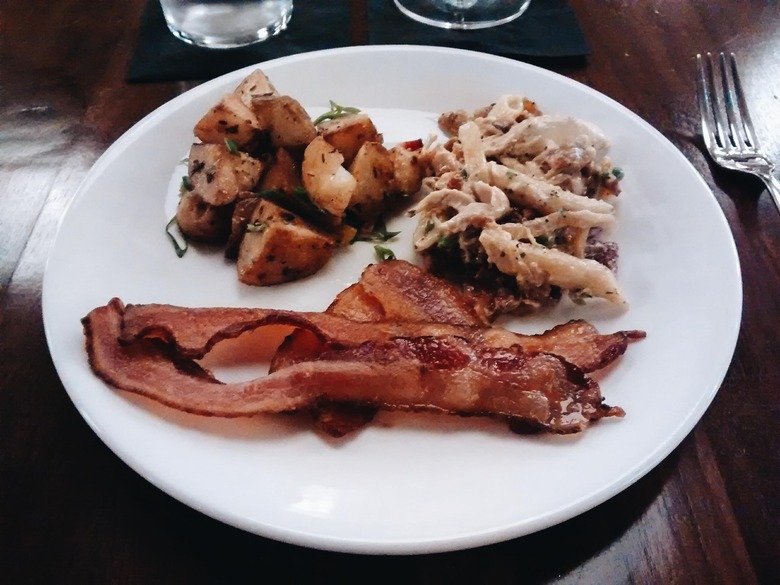 Brunch consisted of a long line of tables carefully piled with assortments of food: fruits and a custom-made omelette station, breakfast-centric "desserts", prime rib at the end, and many dishes like pastas and potatoes between. For a total of $32 USD, brunch consisted of bacon and pasta, potatoes, cocktail shrimp, sushi, a mimosa and sparkling water. A good deal for what you get. Those looking to pay less, though, can order a meal off the menu — which is usually the only option, as brunch only happens on Sundays. Prices are lower at the $15 range, though some complain the meal sizes are too small to justify the price. Again, it depends on expectations.
There's an assortment of mixed drinks, draft beer, and bottled beer, as well as wine. As an example, a bottle of Coors Lite cost $4 and a draft Guinness cost $6.50. Mixed drinks had more or less the same price range.
Bowling lanes and lounging stations
Once finished eating, there are three options: lounge in one of the lounging areas, play bowling, or play arcade games. Bowling prices depended on time/day, but started at $5 with a $4 shoe rental option. As with the rest of Level 257, the bowling alleys were modern and stylish, and included displays on pillars near the ball return. Large oval-shaped seated areas were nearby.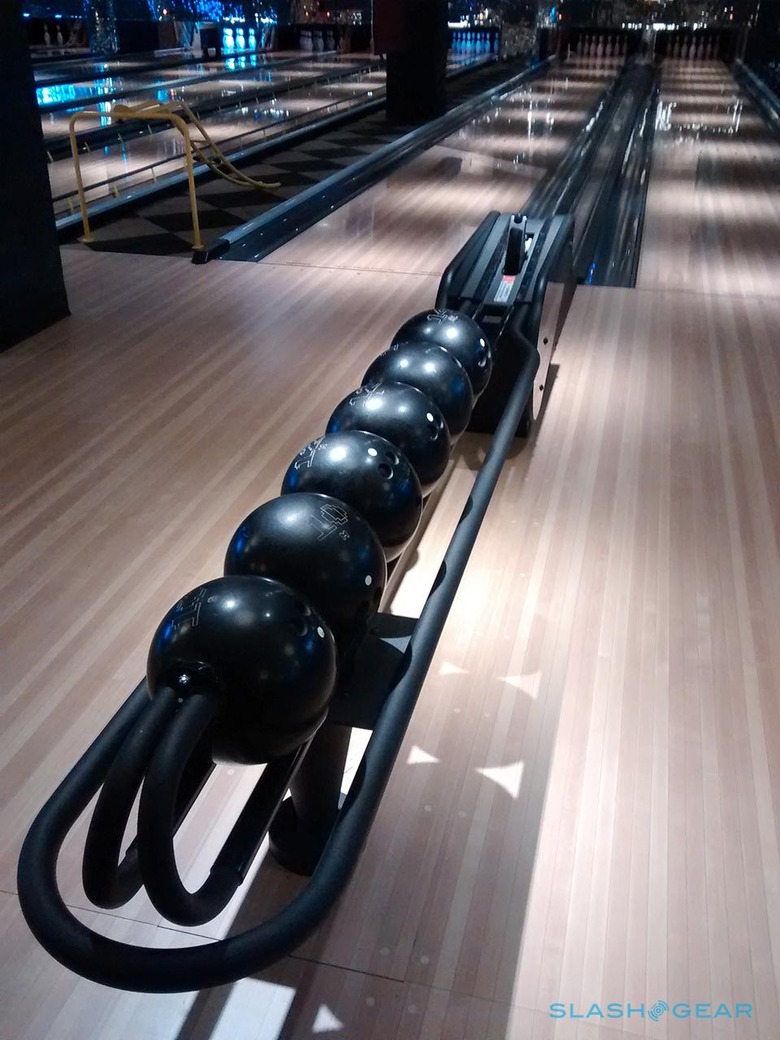 Those who wanted to lounge could sit at any number of free seating areas, but there was also a small "library" in the arcade section complete with shelving and books, board games, mood lighting, low tables and leather seats.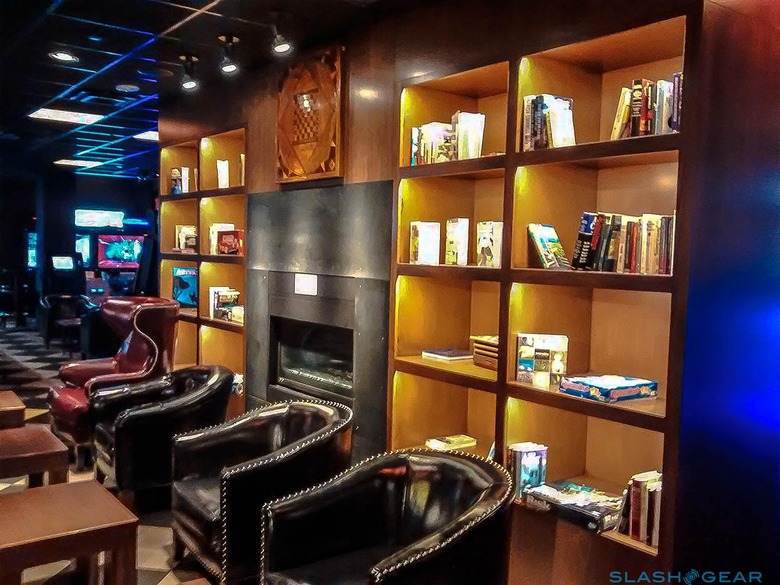 The arcade
For many visitors, the arcade was the place to be. Rows upon rows of retro arcade games filled the section, which had a classical arcade design. Rows of booths featuring tables with embedded displays and joysticks for one-on-one gaming were also available, as well as some modern games: Star Wars gaming pods, a fighter jet gaming pod, a row of Mario Kart racing stations, some shooting games, and more. There were also some classic quarter games like shooting hoops and pinball.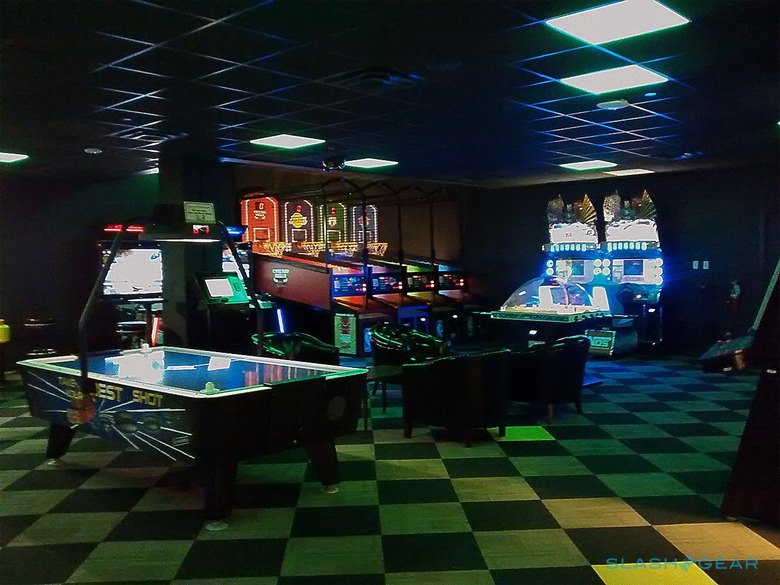 Also unique was a "4D" zombie shooting game that featured 3D graphics and a booth that rumbled, blew air, and more for a rather horrifying survival gaming experience.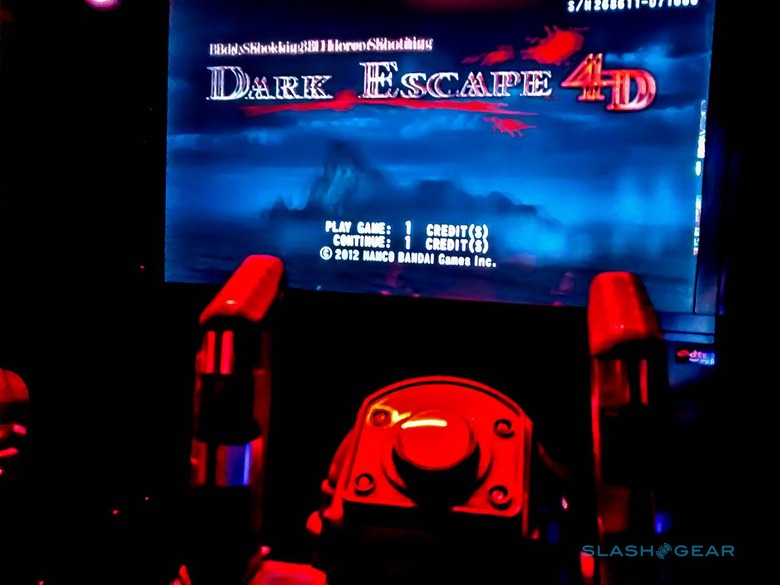 Rather than paying per-game, the arcade machines featured touch panels. Those who wanted to play could get a card from one of a couple kiosks. Prices ranged from $5 to $25, with the highest amount giving 2 hours of game play. Both card and cash were accepted, and the entire process was quick and simple. After this, each time the card was touched to the RFID panel on the arcade machine, the display would read out how much time was left on the card before more funds were needed.
Most of the games were concentrated in one corner (a large section, though) of the floor, but the opposite side had a smaller section of games as well for those taking a break between rounds of bowling.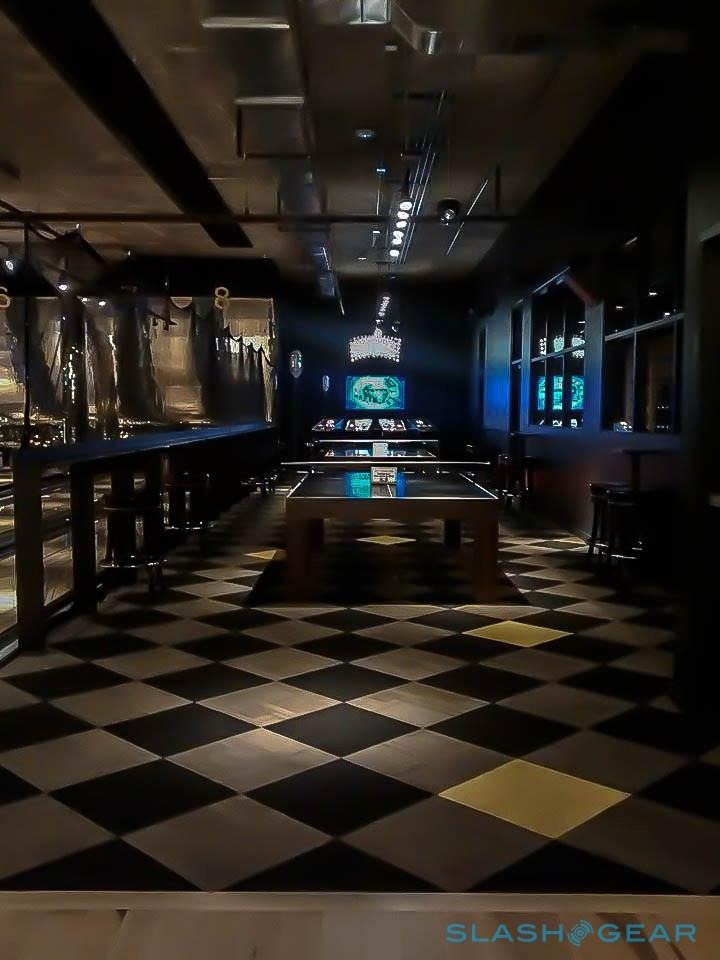 At the end of the day
Level 257 takes a bit of time to wrap your head around, and that's perhaps why some of the initial reviews from early customers are negative. If you're expecting a Dave & Busters with Pac-Man scattered around, you're in for culture shock. If you're expecting a relaxing dinner in the evening, you better learn how to tune out bowling pins in the background.
Level 257 is going all-in with the upscale presentation, but it's never in your face about it: kids are running around, visitors are dressed in blue jeans and ball caps, and the staff are as casual as they are professional. Think of this as either a really fancy arcade, or a really casual upscale restaurant.
If the thought of dinner, bowling, and a couple hours spent playing Galaga on an arcade system sound appealing, Level 257 is certainly worth the trip.