Lenovo's early 2016 lineup includes Surface rival, Chromebook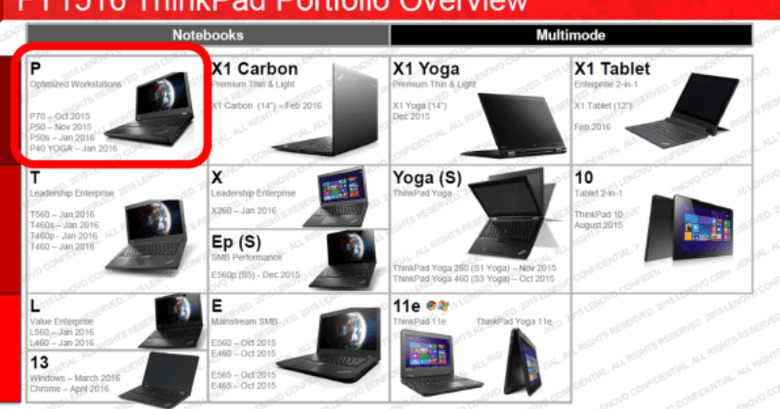 In less than two months, the year will be over so naturally manufacturers are already lining up their ducks for 2016. Lenovo's calendar for its 2016 ThinkPad catalog has just been leaked and it includes quite a few interesting pieces. There is, for example, another Surface Pro clone, which looks less like a clone, thankfully. And among the plethora of new laptops and hybrids lies a Chromebook, as if once again emphasizing that Chrome OS isn't going away yet. At least not by first quarter next year.
It wasn't too long ago when Lenovo announced the MIIX 700, a tablet that was a clear take on the Surface Pro design. This time, however, Lenovo is diverging from that path. The X1 Tablet, which this leak says will launch in February next year, barely resembles Microsoft's tablet as well. It does have that combination of a tablet with a kickstand paired with a keyboard, but everything else is distinctly Lenovo. The tubular edge more reminiscent of its Android YOGA tablets is present as well as the matching kickstand. The keyboard, which we presume also doubles, as a cover, is also unique as it sports Lenovo's iconic red trackpoint. Other than that, details of the X1 Tablet are still slim.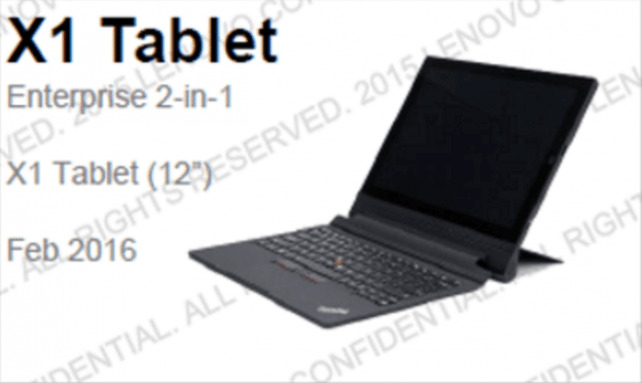 Lenovo's 2016 journey actually begins in 2015, December 2015, that is. That is when it will supposedly unveil the next X1 YOGA. This 2-in-1 is marked to be a 14-inch device that, like almost all Windows YOGA devices, can bend over backwards to support multiple modes. The update continues with the ThinkPad X1 Carbon getting wireless charging support. A wireless docking station will also be made available for that very purpose.
While Lenovo will of course update its other ThinkPad lines, like the X260, T, and L series, it will also be introducing new ones. A new ThinkPad 13 will be making its way to the market by then end of the first quarter and will come in two OS options. The Window model will arrive in March while a Chrome OS version will land on April. Given the latter, the ThinkPad 13 could very well belong to the entry-level netbook category.

Last but not the least, Lenovo will be adding a new member to its P "Optimized Workstation" series. The P40 YOGA, coming in January, will also be as flexible as other YOGAs. And yet again, details are quite scant.
VIA: WinFuture.de